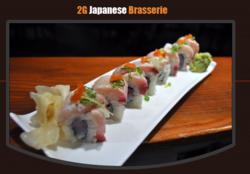 I marinate everything,
Sushi chefs these days think it's all about slicing off fish and putting it on rice. It's lazy. I like the old style
San Francisco, CA (PRWEB) November 16, 2011
Toshio Oguma was brought aboard the San Francisco best sushi restaurant, 2G Japanese Brasserie after having helped open the Morimoto Napa as executive chef, as well as having been a long-time resident at Sushi Sumile in New York. He was trained in the Ginza district of Tokyo and has more than 30 years of experience in the art of sushi, bringing not only a whole new look and feel but also a whole new taste to 2G. His strategy has been described as seriously old school.
"I marinate everything," Toshio Oguma explained. "Sushi chefs these days think it's all about slicing off fish and putting it on rice. It's lazy. I like the old style."
He was lauded as a sushi magician by award-winning journalist Jonathan Koffman in SFweekly who simply described his experience as "the best sushi meal I've eaten all year."
Toshio Oguma clearly knows how to pair raw fish with their perfect seasonings, having impressed a veteran sushi eater so thoroughly. He seems to have a second sense when it comes to the palate, knowing the perfect note to end a delectable meal on.
2G Japanese Brasserie is located at 601 Van Ness Avenue, Suite F in San Francisco, CA. For more information, call the restaurant at 415-692-7467 or visit http://www.2gjapanese-sf.com.
About 2G Japanese Brasserie
2G Japanese Brasserie is a modern izakaya, built upon the values of the traditional izakaya born in Japan. Its primary focus is on the quality of the ingredients, carefully handpicking each vendor, while supporting local growers and businesses. Japanese influenced breakfasts, traditional Japanese lunches, and French inspired Japanese dinners, along with a full sushi bar are all some of the delectable items on its menu. Customers can experience private parties, the best sushi restaurant in the area, Japanese izakaya and a fine full line of drinks during happy hour. The sushi bistro truly has the best Japanese food in San Francisco.
###