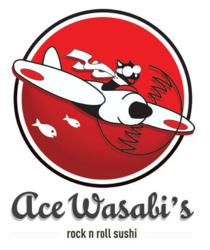 San Francisco, CA (PRWEB) October 07, 2011
Sushi lovers can unleash their inner sushi chefs because San Francisco Sushi Restaurant, Ace Wasabi's is holding a sushi roll recipe contest from October 5th until October 19th. To enter contest, participants are asked to post their favorite sushi recipe onto Ace Wasabi's Facebook page http://www.facebook.com/AceWasabis. All recipes should be creative, unique, and brand-spanking new ideas.
The recipe with the most 'Likes' will be the winner. The winning sushi roll's creator will receive a $100 gift card to Ace Wasabi's Rock-N-Roll Sushi and a vintage Ace Wasabi t-shirt. The winner of the sushi roll contest will be part of what The San Francisco Chronicle said is a restaurant that is "improving on a classic" and what MSN said "offers some colorful twists to the standard sushi menu," as their sushi roll will be featured on Ace's menu for the next month.
To contact Ace Wasabi's for more information, please call (415) 567-4903 or visit them on the web at http://www.acewasabisf.com.
About Ace Wasabi's Rock-N-Roll Sushi
Established in 1995, Ace Wasabi's Rock-N-Roll Sushi quickly became one of the city's top San Francisco sushi marina spots. Serving up contemporary sushi, creative maki rolls and a lively vibe – it's no wonder Ace Wasabi's is a San Francisco favorite. Highlights include the city's first sake bar, seasonal fish flown in from around the world and imaginative maki rolls.
Ace Wasabi's family sushi restaurant would like to thank the customers for dining with them and as always, they are committed to providing their guests with delicious food and the friendliest service at the best value. Their expert sushi chefs are passionate about food and it shows. Ace Wasabi's is open on Mondays through Thursdays from 5:30 pm to 10:30 pm, on Fridays through Saturdays from 5:30 pm to 11 pm and on Sundays from 5 pm to 10 pm featuring San Francisco's Best Happy Hour.
###