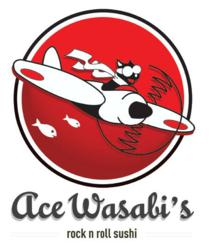 We're such an interactive and lively restaurant -- we just want to make it easy for everyone to have fun
San Francisco, CA (PRWEB) January 26, 2012
San Francisco sushi restaurant, Ace Wasabi's Rock-n-Roll Sushi and Wall Covering Designs Inc. of San Francisco recently added noise-reduction panels to its venue, something not all restaurants feature, and invites patrons to a live demonstration of how acoustic panels perform. The demonstration takes place on Monday, Jan. 30 from 5 to 8 p.m. at the Banquet Room of Ace Wasabi's Rock-n-Roll Sushi.
Ace Wasabi's newest addition will provide comforting noise control to enable easy conversations, not noise competitions. The panels ensure that patrons can engage in lively talks during their meals without having to yell over each other or a nearby table.
"We're such an interactive and lively restaurant -- we just want to make it easy for everyone to have fun," said Ken Lowe, owner of Ace Wasabi's Rock-n-Roll Sushi.
The event will demonstrate the effectiveness of acoustic panels during a live demonstration. The goal of the panels is to eliminate noise, enhance the dining experience and maintain the liveliness of the restaurant.
"Because Ace Wasabi is such a popular and animated restaurant, there are many conversations going on at the same time," Lowe said. "This new innovation will make it easier for customers to talk to each other without the noise bouncing off of hard surfaces."
Ace Wasabi's family would like to thank all of its patrons for dining at Ace Wasabi's, and with this newest addition to the venue, the restaurant renews its goal to remain committed to providing guests delicious food, a dynamic atmosphere and the friendliest service at the best value.
For more information about the acoustic demonstration or Ace Wasabi's Rock-n-Roll Sushi, call (415) 202-5687, or view the sushi restaurant on the web at http://www.acewasabisf.com or visit 3339 Steiner St. in San Francisco.
About Ace Wasabi's Rock-n-Roll Sushi and Wall Covering Designs Inc.
Established in 1995, Ace Wasabi's Rock-n-Roll Sushi has become a San Francisco restaurant that serves as one of the city's top sushi venues and hosts one of San Francisco's best happy hours. Serving up contemporary sushi, creative maki rolls and a lively vibe -- it's no wonder Ace Wasabi is a San Francisco favorite.
The San Francisco Chronicle said the Sushi Marina restaurant is "improving on a classic," while the New York Times called it "the Marina hot spot." PopSugarTv said, "The lively atmosphere and awesome playlist make Ace Wasabi an ideal happy hour spot."
###