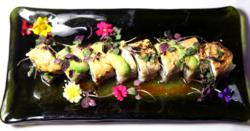 San Francisco, CA (PRWEB) February 10, 2012
Habitat alteration, overexploitation, climate change, pollution and disease have freshwater eel populations in decline at a time when demand for the delicate fish, popular in sushi as unagi, continues to grow. San Francisco sustainable sushi restaurant Ki Sushi's Executive Chef Isamu Kanai now offers a tasty and environmentally friendly vegan alternative made with tofu, Japanese mountain yam and seaweed.
Chef Isamu, who is known for making some of the best sushi in San Francisco, shares the recipe for his signature Green Dragon Roll made with the eel substitute, which he calls tofu-nagi.
Tofu-nagi (Faux Unagi) Green Dragon Roll
Ingredients:
Silken tofu
Japanese mountain yam
Smoked sea salt
Dried seaweed
Cooking oil
Sweet soy sauce (vegan)
Sushi rice (cooked)
King oyster mushrooms
Avocado
Tempura flakes
Shiso or other microgreens
Equipment:
Paper towels
Grater
Mixing spoon
Medium frying pan
Bamboo sushi mat
Knife
1) First, prepare the tofu-nagi. Drain water from 10oz of silken tofu and give it a squeeze in a paper towel to remove excess water. Mix tofu with 2 ounces of finely grated Japanese mountain yam and ½ teaspoon smoked sea salt. Stir until smooth.
2) Shape into a rectangular patty and place on dried seaweed, totally covering bottom side.
3) Add 1 tablespoon of oil to frying pan over medium heat.
4) Place tofu patty seaweed-side-down in frying pan for 2 minutes, then flip to other side for 2 additional minutes.
5) Remove from heat but leave patty in frying pan.
6) While still in pan, add vegan sweet soy sauce. Return to heat for 1 minute.
7) Remove from pan, cut into 1 inch strips.
8) Then it's time to assemble the sushi roll. Lay 1/2 sheet dried seaweed on a bamboo mat. Spread sushi rice to cover the seaweed. Horizontally lay strips of king oyster mushrooms, avocado slices, and tempura flakes, then roll.
9) Top with the 1-inch pieces of tofu-nagi and avocado, alternating every three.
10) Cut the finished sushi roll into eight pieces.
11) Sprinkle with sweet soy sauce and top with microgreens such as shiso.
To taste the vegan sushi roll without all the effort of preparing it, visit Ki Sushi, located at 540 Howard Street in downtown San Francisco. The San Francisco sushi bar is open for lunch Tuesday-Friday from 11am to 2pm and dinner on Tuesday-Saturday from 5pm to 10pm.
For more information about Ki Sushi, call them at (415) 529-4310, or visit their restaurant at 540 Howard Street in San Francisco. Ki Sushi can be found on the web at ki-sushisf.com.
About Ki Sushi
Ki Sushi is a San Francisco sushi restaurant that gives patrons an opportunity to experience a modern, environmentally conscious interpretation of classic Japanese fare while offering an eco-sensitive experience. Sushi, yakitori, and other classic izakaya dishes are reinvented through the lenses of sustainability and local/seasonal awareness.
###