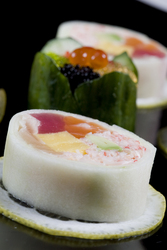 Las Vegas, NV (PRWEB) May 4, 2008
The long-awaited grand opening of Sea Stone Sushi & Gourmet Fusion has arrived. Located on the corner of Charleston and Rampart in the heart of Boca Park, the wine and sake are flowing, the sushi chefs are rolling and the patio is nothing short of relaxing for the upcoming sweetness of summer.
With a private grand opening event that drew over 400 guests, Sea Stone is out of the gates with stellar reviews. Diners are raving about their specialty sushi rolls, the refreshing cocktail menu and a lunch and dinner menu that's built to please any palate. From savory steaks to their signature Lobster Kung Pao and innovative lunch bento boxes, there's no diner who will leave unsatisfied, no matter what time of day.
While there's no shortage for purveyors of Asian cuisine or sushi in the Las Vegas locale, Sea Stone endeavors to change the direction of the tide in Pacific Rim cuisine. Not only are they fusing the elements of Korean, Chinese, Japanese, and Hawaiian cultures but they're bringing to the forefront a selection of signature hot sushi dishes as well as a boutique wine and sake list second to none. From the eclectically delicious (and riceless) Sea Stone Rainbow Roll to the unsurpassed taste of the Karen Coy Sake (crafted by Japan's first female sake master), your next great dining experience awaits underneath the Feng Shui-influenced eaves at this incredible venue.
Their boutique wine and sake list is unparalleled in an off-the-Strip dining destination. In partnering with DeLuca Liquor & Wine, Southern Wine & Spirits of Nevada and Vin Sauvage, Sea Stone has developed what just might be the next award-winning wine list in Las Vegas. You'll find such pearls as the OX Shiraz, a 99 Score by Robert Parker (and only one barrel of the wine was ever made), Catena Alta Malbec - Wine Spectator's #23 wine on their Top 100 Wines of 2007, and Molly Dooker's 2006 Enchanted Path, a Shiraz/Cabernet blend that received a 94 point score from Robert Parker.
They've also taken after-work drinks to a new level with their Happiest Hours menu, available from 4 - 6 p.m. daily (yes, weekends included). Enjoy drink, sushi and appetizer specials on their spacious outdoor patio or at their cozy bar and sample such signature cocktails as their Cucumber Martini, The Stone Mary (a wicked Bloody Mary made with Hangar One Chipotle vodka), or the ever-popular sake bomb and saketinis.
Don't miss their Tempting Tastes events beginning on Thursday, May 1. Each Thursday will feature complimentary wine, sake and spirit tasting from selected regions and varying styles. Bottles featured each Thursday will be offered at a 20% discount for diners to enjoy with their meal as well. Events will run from 5:30 to 8 P.M.
Join Seastone's Mailing List - you'll automatically receive a coupon for your next visit and be added to their mailing list for future special events. Never miss out on a Tempting Tastes or exclusive summer patio event again.
Sea Stone invites you to join them for lunch (11:30 a.m. - 4 p.m.), The Happiest Hours (4 - 6 p.m.) and dinner (5 - 10 p.m.) daily. Sea Stone opens for dinner at 4 p.m. on Sundays. Call 702-478-9000 for up-to-date event information and to make reservations and reserve canopied patio seating.
Sea Stone Sushi & Gourmet Fusion offers tempting sushi creations and traditional Asian-influenced fare to discerning diners. With a diverse menu sure to please any palate and a boutique wine and sake list second to none in off-Strip establishments, they pride themselves in providing a truly fulfilling dining experience for their guests. Their innovative cooked sushi rolls coupled with their combination of all the tastes that comprise Pacific Rim cuisine place them at the forefront of forward-thinking kitchens in Las Vegas. For more information on Sea Stone Sushi & Gourmet Fusion, please contact BRAND, Ltd. (agency of record) at 702-257-1520.
###