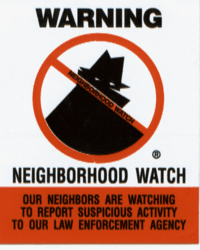 Statistics prove that when a neighborhood watch system is present home burglaries are greatly reduced
Seattle, Washington (PRWEB) May 23, 2013
One of the best home safety tips to avoid being the victim of a break-in or robbery, aside from having an alarm system, is to rely on neighbors and other citizens to report suspicious behaviors. In fact, burglary statistics show that when a neighborhood watch system is present in an area, crime is greatly reduced.
While relying on private citizens to report suspicious behavior is a great way to lower the potential for crime, there are tips that should be followed when reporting activity that is out of the ordinary, according to AlarmSystemReport.com, which is a site that provides alarm system reviews of top home alarm companies, such as ADT reviews.
1. The first tip to remember when reporting suspicious activity is to be able to properly recognize what constitutes behavior that could be seen as suspicious. Certain activities, such as being parked in a location for an extended period of time, or driving slowly past an area repeatedly are good indicators of activity that could be classified as suspicious.
2. When an individual spots suspicious behavior, it's key to assess the situation to avoid reacting in a way that isn't appropriate. One example would be reporting someone at a park taking pictures of his daughter, as opposed to reporting a person standing at the perimeter of a park taking pictures of several children. An individual should use his or her best judgment and avoid acting too quickly when suspicious behavior is spotted. Different situations and scenarios will require different reactions.
3. If the situation seems to require attention from authorities, it's advisable to make careful notes of the suspicious person's behavior and appearance to avoid potential confusion. As many details as possible are best, for example noting the individual's clothing, height and weight, and if a vehicle is involved, noting the make, model and license plate number are all helpful pieces of information.
4. If an individual does decide to report suspicious behavior, it's important to decide on the best course of action after assessing the situation. For example, if someone is prowling around a neighbor's home looking into windows, this would be a time to call 911, but if the situation simply involves a parked car, it may be best to call a non-emergency line for the local police department and report what's been seen. If there is doubt about the severity of the situation, it may be best to contact 911, but in many situations that are non-threatening, just contacting the police department's non-emergency department may be adequate to handle the situation.
About AlarmSystemReport.com
AlarmSystemReport.com is the leading third-party provider of information related to the home alarm and security industry. The site is a valuable resource for consumers to compare alarm systems, and the site also provides coupons, discount codes and access to instant quotes that can save consumers as much as 35% off the installation of a home alarm system.