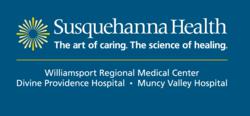 Since the widespread vaccination of children began in the United States, the numbers of previously common childhood illnesses, some which could cause disability or death, has declined dramatically.
Williamsport, PA (PRWEB) October 12, 2011
School-aged children are back in class and although many have already obtained back-to-school physicals, some may still need up-to-date vaccinations to be protected from common illnesses and disease. Parents are sometimes fearful and conflicted when it comes to the safety and effectiveness of vaccinations.
Dr. Mary Beth O'Hara of Susquehanna Health Medical Group encourages parents to keep their children's vaccinations up-to-date to ensure good health and reduce the spread of disease and illness in the community. "Vaccines are one of the medical community's greatest success stories protecting millions of children from deadly diseases," says Dr. O'Hara. "Since the widespread vaccination of children began in the United States, the numbers of previously common childhood illnesses, some which could cause disability or death, has declined dramatically."
Proven to be safe and effective, vaccinations assist the body in building immunity to disease using small amounts of killed or weakened virus or bacteria that can cause illness. The Centers for Disease Control and Prevention (CDC) now recommends annual flu vaccinations for children ages six months through 18 years. According to CDC data, only about 51 percent of American children received the influenza vaccine last year. Although children rarely die from flu-related illness, deaths are reported each year. The rates of infection are highest among children and can result in spreading of the disease and more serious illness for women who are pregnant, people 65 and older or those with pre-existing health conditions or weakened immune systems.
The flu is spread though nasal secretions, sneezing and coughing. Vaccinations are recommended annually because the strains of viruses are constantly changing and immunity decreases over time. Although influenza can occur at any time of year, the most common season runs from October through May with the highest rates of infection falling in the months of January and February. Adults and older children require a single dose of the vaccine, while children ages nine and younger may require two doses (administered about 4 weeks apart) to be protected. It can take up to two weeks after the administration of the vaccine to fully develop protection from the virus. Individuals who have severe allergies should consult a doctor before obtaining flu vaccinations.
According to the CDC, although the majority of seasonal flu vaccinations administered to adults in 2010-11 were given by doctors, about 20 percent were administered by pharmacists. This year, three Susquehanna Health pharmacists who work in the retail pharmacies at Williamsport Regional Medical Center and Divine Providence Hospital are licensed by the state of Pennsylvania to administer vaccinations to adults. These pharmacists work with primary care doctors and other healthcare providers to assist patients with medication use and to help control and prevent illness. "The advantage of obtaining a flu shot from a pharmacist is convenience," said Susquehanna Health Pharmacy's Chief Pharmacist Robert Zaleski. "Our customers can pick up prescriptions and get seasonal flu immunizations at the same time. Getting a flu shot is such an important thing to do to safeguard your health, especially at this time of year."
For more information, contact your primary care physician, talk to your pharmacist or visit SusquehannaHealth.org and click About Us and Today's Health News for up-to-date health-related articles.
About Susquehanna Health
Susquehanna Health is a three-hospital integrated health system including Divine Providence Hospital, Muncy Valley Hospital and Williamsport Regional Medical Center located in northcentral Pennsylvania. Serving patients from an 11-county region, Susquehanna Health is a healthcare leader and has been recognized at the national and state levels for quality of care. Susquehanna Health offers a wide array of services that include cancer treatment, heart and vascular care/heart surgery, neurosciences including neurosurgery, orthopedics, urology, OB/GYN, gastrointestinal services, behavioral health, physical rehabilitation, home care, long term care, assisted living and paramedic/ambulance services.
Contact: Gwynne Kinley, (570) 323-3525
###