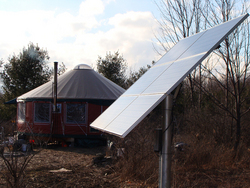 Montrose, CO (PRWEB) April 23, 2009
Everett Boutilett and Louis Johnson, both in their mid forties, live on a beautiful and remote piece of land in upstate New York. Everett is a mortgage loan officer and Louis a graphic designer. They always had the intention of building a small, energy efficient dwelling. Although their original plans were to build an earth sheltered home, a close friend convinced them that a yurt might be the way to go. After doing a little research, they discovered that a yurt uses fewer resources, is more affordable and has the advantage of allowing them to do most of the work themselves. Since they lease the land they live on, the fact that the yurt can be moved in the future was also important.
So in the late summer of 2008 they purchased a 27' yurt from The Colorado Yurt Company. "We really liked the comprehensive and beautifully designed Colorado Yurt Company website. We especially liked the calculator feature with the many extras and choices available. We also appreciated the abundance of photos, many of yurts in natural settings. Customer service has been terrific, the prices are reasonable and our many questions were/are answered thoroughly and promptly."
Everett and Louis carefully designed their dwelling to be totally free of municipal utilities and it's given them a respectful appreciation and awareness of the energy and water they use. "We walk 1/3 mile from our parking spot to our yurt site and are completely off grid. We have a 1.2 KW PV (photovoltaic) electric system with battery storage, wood heat, propane cook stove, hand pumped well water, gravity fed water inside from a tank in our loft, composting toilet, and no septic. A grey water mulch pit is going to be our first spring project. Currently we dump our grey water into our compost pile which kept it 'active' all winter. Our PV system is small and has a generator plug-in to supplement power when needed. We have not used a generator yet however, we choose to reduce our usage instead. We only use our microwave and toaster on very sunny days and supplement our lighting with a propane light and candles if necessary. We save a lot of energy by cooking on the wood stove. Hand pumping our water has provided a lot of exercise and has made us very conscious of our usage. We heat our hot water on the woodstove and plan to construct a solar batch hot water heater to use during summer months."
When asked if the yurt has been popular with their friends and family they reflect on the response, "We had a yurt raising with 45 people helping out. More than a hundred have seen it since. Everyone is intrigued and fascinated by the concept if not ready to do it themselves. Everyone is on their own journey and some are on a different journey altogether. Reactions range from curiosity to enthusiasm, wonder and awe."
There are many reasons the yurt owners themselves love the yurt. "Our yurt affords us a unique closeness to nature. We experience all natural sounds: rain, wind, the yips and howls of coyotes and the calls of turkeys, owls, geese and other birds. The frogs began their ritual mating calls on March 26th. We enjoy an abundance of natural light. The French doors and dome provide a surprising amount of light. We unzip our seven windows as conditions allow, further brightening our home and providing a sweeping view of the outdoors. We never tire of seeing the blue sky and clouds or the moon and stars through the dome. We love the very manageable yet comfortable space. The size of the yurt makes it easier to maintain and keep clean. It also prevents us from acquiring unneeded 'stuff' and enforces our commitment to simple living."
The yurt and the sustainability they have approached it with have allowed Everett and Louis to realize a dream they've shared together for 16 years. Now that the yurt is up, they are transitioning to part time work so they can pursue other interests more fully. They enjoy volleyball, progressive politics, simple living, vegetarian food, hiking, snowshoeing, cross country skiing, exploring nature and spending as much time in Southern Utah as possible.
Check out more photos of Everett and Louis's yurt on Flickr. It's best viewed in slideshow mode and be sure to click on "show info" to view details about their setup. As you'll see, the yurt is a wonderful combination of sustainability and style.
Check out the Colorado Yurt News page to see resources recomended by Everett and Louis.
###