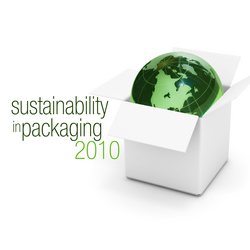 Portland, ME (PRWEB) September 9, 2009
IntertechPira is pleased to announce the Sustainability in Packaging 2010 conference and exhibit, taking place March 15 -17, 2010 at the Rosen Plaza Hotel, in Orlando, FL.
Now that sustainability is a way of doing business instead of just another buzz word, it's even more important to align all of the elements from defining the company's mission statement on sustainability to the materials and processes used in daily operations in order to make sustainable initiatives meaningful and sustainable.
The conference will bring together people with various levels of experience (sustainability veterans to novices), from different departments within the company and very diverse industries, but with one mission - to make it work and to make it work well.
"The IntertechPira 'Sustainability in Packaging' conference was an extremely informative industry event. It was content rich and I was impressed with the global diversity and quality of the presenters. I was never bored. There was a relevant activity for everyone from the extensive choices of breakout sessions to the networking mini trade show. Well done!" -- James Downham, President & CEO, Packaging Association of Canada
IntertechPira is now accepting submissions for presentations at the 2010 event. Of particular interest are submissions for sessions on: Sustainability strategy, Global perspective on sustainability, Marketing and communicating sustainability internally and externally, Procurement, Supply chain cooperation, Materials & processes and Design & innovation.
Additional topic ideas are also welcome and will be given full consideration. Case studies are of particular interest.
Topics should focus on the business and technical information that is the subject of the conference, rather than the product line, sales interests or management structure of an individual organization. The total time allotted for each presentation is 30 minutes, with 20-25 minutes for the presentation and 5-10 minutes for questions and discussion.
Topic ideas for preconference seminars are also invited at this time. Preconference seminars are classroom style workshops intended for 20-30 participants. They are designed to provide ample time for in-depth discussion, questions and answers, and student-instructor interaction.
A completed submission should include company name, speaker name, job title and contact information, a topic summary of no more than one page and a tentative title and sub-headings for the presentation. Abstracts must be received by September 25, 2009 and may be submitted by fax: +1 207 781 2150 or email: olga(dot)adamovich(at)pira-international(dot)com.
For more information about the conference program and speaking opportunities, please contact Olga Adamovich: +1 207 781 9628.
To learn more or register for the conference, visit the event website at http://www.sustainability-in-packaging.com, or contact Brian Santos at IntertechPira: +1 207 781 9618. Exhibit and sponsorship opportunities are also available.
IntertechPira is a leading information services provider that specializes in giving industry executives strategic information and analyses pertaining to advanced materials and technologies driving the development of innovative products. We serve niche segments of the lighting and displays, high-performance pigments, fillers and fibers, energy and advanced materials, and electronic materials and devices industries by producing international conferences and publishing focused, relevant reports on which actionable business decisions can be based. IntertechPira is a subsidiary of Pira International, with offices in the United Kingdom and Portland, Maine, United States.
# # #