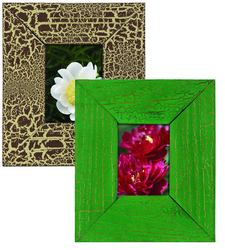 Going forward, we will partner exclusively with suppliers who share our vision of sustainability and are willing to work with us to streamline production and implement energy efficiencies
Round Rock, TX (PRWEB) August 21, 2008
Burnes Home Accents, the leading maker of photo frames and related photo storage products, has introduced a collection of reclaimed wood and recycled plastic photo frames, marking the first year of an eco-design strategy that has impacted every aspect of the frame manufacturer's business.
The goal of the enterprise-wide sustainability initiative is not merely to bring sustainable products to market, but to reduce overall corporate waste by 25 percent within a three-year period. Accordingly, Burnes' eco-design strategy considers sustainability from product design and choice of materials, through manufacturing and distribution, to the product's end-of-life.
"In addressing true sustainability, we had to look beyond the end product," said Jean-René Gougelet, president of Burnes Home Accents. " Our eco-design strategy has a higher purpose that will help sustain our business and the earth's limited resources -- and improve the lives of our employees and customers, their families and communities."
Burnes is using its manufacturing facility in Durango, Mexico, as a working model for testing and implementing socially conscious practices. This prototype for sustainable manufacturing will help Burnes suppliers become more environmentally responsible.
"Going forward, we will partner exclusively with suppliers who share our vision of sustainability and are willing to work with us to streamline production and implement energy efficiencies," said Gougelet.
Burnes has already partnered with the Forest Stewardship Council (FSC), the world's strongest system for guiding forest management toward sustainable outcomes. The company is currently undergoing the FSC's lengthy audit process -- which documents the chain of custody of all raw materials coming into a factory -- and expects to be certified by spring 2009. Ultimately, all of Burnes' wood products -- as well as the paper used in Durango-manufactured photo albums -- will come from certified harvested forests.
Among the Burnes' zero waste efforts is a closed-loop system that enables the Durango plant to capture all sawdust produced during the cutting process. The sawdust is sold to a Burnes supplier, who uses it to create medium density fiberboard (MDF). Burnes then purchases the fully recycled MDF for manufacturing the backs of photo frames, as well as other products.
Burnes is also focused on reducing product damage that occurs in transit, a huge problem for photo-frame manufacturers. To date, the company has made dramatic strides in this arena, including decreasing the damage rate of one particular product line from 40 to 4 percent.
"We want to keep packing materials to a minimum, but need to ensure that each item arrives in tact. So we're also investigating alternative and sustainable packaging materials and methods," said Gougelet.
By designing products that can be made in the Durango facility, Burnes is reducing transportation costs and emissions expended during importation. Among these are some of the new Decor Essentials photo frames, a collection of made from reclaimed wood and recycled plastic -- materials that would otherwise end up in landfills. Classic designs in a variety of broad-appeal finishes ensure a long product life. Burnes is donating a percentage of the proceeds from every Decor Essentials product to Save the Earth, a foundation that funds education and research on environmental issues.
To make sustainability more tangible, the company has also initiated a voluntary 'personal growth plan' to assist employees in making positive changes in their lives. Early initiatives include an on-line resource for everyday ecological and sustainable practices and an organic snack bar with facts on nutrition and environmentally responsible agriculture.
Founded by Charles D. Burnes in 1917, Burnes Home Accents (http://www.burnesofboston.com) is the largest designer, marketer and manufacturer of photo frames, photo albums, and related photo storage and display products.
Editor's note: Mike Kirkland, vice president, marketing, is available for interviews. Digital photos and product samples available on request.
###