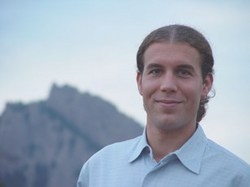 We were very impressed by the quality of the nominations and the caliber of the individuals nominated
Boulder, CO (Vocus) February 26, 2010
Quayle Hodek, founder and CEO of Boulder- Colo.-based Renewable Choice Energy, was chosen as a top entrepreneurial leader by the Boulder County Business Report and recognized as a regional "power player" by Denver Magazine this month. The accolades add to a growing list of honors and recognition received in recent years by Hodek and his nine-year-old renewable energy and sustainability services company.
Hodek represented himself and Renewable Choice at a ceremony held at the historic Boulder Theater for the inaugural [40 Under Forty Awards hosted and presented by Boulder County Business Report. The award, given to forty of the county's top business and community leaders under the age of forty, honored a selection of nominees with strong local, regional and national presence. Among other honorees were Joshua Onysko, co-founder and president of Pangea Organics; Blake Jones, president of Namaste Solar Electric; Justin Gold, founder of Justin's Nut Butter; and Christy Orris, owner of A-TEK Manufacturing.
"We were very impressed by the quality of the nominations and the caliber of the individuals nominated," said Christopher Wood, Business Report publisher. "The Boulder Valley is very fortunate to have these dynamic young professionals poised to assume leadership roles - and many who have already done so."
The February issue of Denver Magazine, the cultural, culinary, fashion and society glossy of the Mile High City, also featured a two-page spread on Hodek in its annual "Power Players" segment. One of seven regional personalities recognized for leadership in Colorado and their industries, Hodek's career and passions were captured in the article Selling Into the Wind. Other featured leaders include Walter Isenberg, CEO of Sage Hospitality; Randy Weeks, CEO of Denver Center for the Performing Arts; and more.
The article by Denver Magazine Associate Editor, Jeff Kass, also highlights the success of Hodek's most recent and longest-running venture, Renewable Choice Energy. "Since Renewable Choice started in 2001, Hodek has moved a lot of product. His wind energy deals have been among the largest and most innovative in the nation. All told, Renewable Choice says it has sold five million megawatt hours of clean wind energy to customers in all 50 states. That translates to 464,750 cars taken off the road for a year or 336,097 households' worth of electricity for one year. Not bad for a company that doesn't even own a single windmill."
"I am honored and humbled by the personal recognition, and am fortunate to be surrounded by a talented team of professionals helping me grow the company. I am especially glad to see the renewable energy and other sustainability industries spotlighted in this way," said Hodek about his recent awards and features. "It's exciting to see so many mainstream and business-oriented publications recognizing the contribution that sustainability companies and their leaders make to business and society."
Quayle Hodek has accepted the EPA's Green Power Beacon Award for his and his company's work in expanding the market for renewable energy, has been featured on EarthFirst's Hottest Guys in Green list, was a 2009 Treehugger.com Hottest Eco-CEO, and was named a Red Herring Top 25 Entrepreneurs Under 35. Additionally, Hodek, Renewable Choice Energy and clients have been featured in hundreds of other media publications including the New York Times and Wall Street Journal for innovations in wind power, consumer education and outreach, and other sustainability services.
About Renewable Choice Energy
Renewable Choice Energy is a leading national provider of renewable energy credits (RECs), carbon offsets (verified emission reductions, or VERs), and greenhouse gas inventory services to hundreds of Fortune 500 companies and small businesses, thousands of residential customers, and more than 1,000 LEED green building projects in the U.S. and internationally. Founded in 2001, Boulder-Colo.-based Renewable Choice and its clients have received prestigious awards from the EPA and DOE for supporting and expanding the renewable energy market and have been featured in hundreds of media outlets including The New York Times, Wall Street Journal, CNN, USA TODAY, and more. (http://www.renewablechoice.com)
###