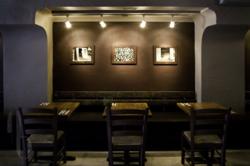 San Francisco, CA (Vocus/PRWEB) June 11, 2011
Locavore, the restaurant that serves local, organic and sustainable food in San Francisco's Bernal Heights neighborhood, is excited to announce some great news for local foodies: Their Saturday brunch, which started in April, was so popular that they recently decided to open on Sundays, too. They are now serving fresh, locally sourced brunch food on Saturdays and Sundays from 10 am to 2 pm. They also introduced a brand-new brunch menu, featuring their celebrated whole-animal cooking.
As the seasons change, so do the offerings at Locavore, where everything is made from scratch using fresh ingredients from local farms and producers. The new brunch menu at the San Francisco organic restaurant features New American cuisine with a twist:

Gem lettuce with lamb bacon, one poached egg, creamy dressing and shaved radish
Buttermilk biscuit with sausage and cream gravy, two fried eggs
English muffin sandwich, maple sausage, scrambled eggs, hollandaise, side rosti
Duck confit, butter beans, sunny side up eggs, herbed bread crumbs and sage
Seasonal vegetable omelet, white cheddar, basil, side rosti
Chorizo scrambled with eggs, mashed avocado, cilantro, hot sauce, side rosti
Butter milk pancakes, maple syrup, whip cream, strawberries, ham
Grilled asparagus, two poached eggs, hollandaise and lardo
Burger with caramelized onion, bacon, cheddar and fries
Garlic stout sausage on a brioche bun with sauerkraut and fries
Enjoy any of the above with a mimosa; $8 each or $12 for bottomless. Locavore is proud to feature locally roasted De La Paz coffee, brewed in a Chemex coffeemaker.
For more information about Locavore's new menu or any of Locavore's products or services, call (415) 675-8142, visit view them on the web at http://www.locavoreca.com, or visit their restaurant, located at 3215 Mission Street in San Francisco's Bernal Heights neighborhood.
About Locavore Restaurant
Locavore is a unique restaurant in San Francisco that specializes in preparing foods made only from ingredients purchased from farms within 100 miles of the City. They work with a network of about 25 farms and ranches that report fresh food availability to Executive Chef Jonathan Merritt daily. Merritt bases the menu each day on the availability of ingredients and what he can find at the farmer's market, where the abundance of fresh food provides additional inspiration.
# # #