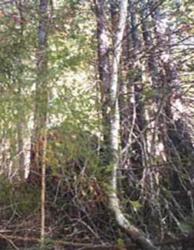 'Sustainable Forestry' is primarily green marketing. It's unfortunate, it's sad, but in my humble (and experienced) opinion, it's truly the case.
(Vocus/PRWEB) March 09, 2011
In the ongoing modern debate about the best way to certify "green" forestry practices, the focus has been on the competing certification guidelines issued by the Forest Stewardship Council (FSC) and the Sustainable Forestry Initiative (SFI). The FSC is widely considered as having the tighter standards of the two, as the SFI has ties to timber and paper companies. But upon close inspection, says Forever Redwood CEO Raul D. Hernandez, neither certification program goes nearly far enough. In order to have healthy forests over the long term, the industry needs to stop quibbling about "sustainable" forestry practices and adapt a restoration forestry program instead.
A little background on the issue: FSC is a nonprofit that was founded by international environmental groups in 1993 to promote responsible forestry techniques. SFI was created in 1995 by forest industry companies as a competing standard. As reported in the New York Times "Environmental Groups Spar Over Certifications of Wood and Paper Products", much attention has been paid to the ongoing tug-of-war between the two leading certification programs. But Hernandez points out that buried in the Times' article is a truth less discussed: neither certification is very strict; in fact, the article pointed out that Consumer Reports gave them both the same lukewarm rating: "somewhat meaningful."
"'Sustainable forestry' is primarily green marketing," says Hernandez," It's unfortunate, it's sad, but in my humble (and experienced) opinion, it's truly the case."
Hernandez explains that FSC standards, known in the US as "Smartwood," were originally quite rigorous, but over the years they have become watered down by financial and political pressures. He notes that they now permit the use of chemicals in the certified forest, do not emphasize biodiversity, and do not require any effort to restore old-growth trees, particularly in redwood forests.
That's why Old Growth Again (OGA), the parent company of Forever Redwood, issued the Restoration Forestry Manual. It details steps necessary for truly sustainable timber harvesting practices. OGA's restoration plan emphasizes recreating the natural biodiversity of a forest. "By maintaining a diverse stand of old growth, mature and young trees, the forest will approximate its pre-logging structure," declares OGA.
Whereas FSC standards would allow a monoculture teak tree farm to be certified as sustainable; OGA standards require consideration of the larger picture. "Before removing a tree, its relationship with the canopy, soil, slope of the land, erosion, fire hazard, age and species distribution of neighboring trees are all considered," according to the manual.
The restoration model used by OGA restores the total health of a forest, and calls for a thinning rate of 10% per decade, which will be sustainable in perpetuity as the forest grows. "We need a new standard for truly green forestry," says Hernandez, "The standards written in Forever Redwood's 'Restoration Forestry Manual' cannot be manipulated politically because the main points are quantitative and verifiable. This is not the case with the existing standards in general use."
Hernandez's company, Forever Redwood, puts the restoration model into practice by selling furniture made from five grades of redwood and Douglas fir harvested in accordance with the strict standards propagated by OGA. They specialize in wooden planters, wooden swings, picnic tables, pergola kits, shower benches, and many other indoor and outdoor furniture pieces. Their one-of-a-kind pieces are all handmade and come with warranties up to 30 years. Consumers can feel great knowing that their beautiful, durable new furniture is made in accordance with standards that far outpace either of the leading certification programs.
For more information about restoration forestry or any of Forever Redwood's services, call them at (888) 492-0872, view them on the web at http://www.foreverredwood.com, or visit their forest located at 33800 Annapolis Road, Annapolis, CA 95412
About Forever Redwood
Forever Redwood of California is an indoor and outdoor furniture store in California that specializes in wooden planters, wooden swings, picnic tables, pergola kits, shower benches, and other custom furniture pieces. Forever Redwood's parent company, Old-Growth Again Restoration Forestry, Inc. (OGA), was founded to restore and manage forest land within a growing restorative business model (ecology and economy). Forever Redwood serves the San Francisco Bay Area and the nation.
# # #