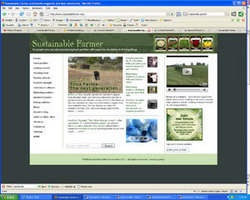 I saw the increasing industrialization of agriculture firsthand, as farms became factories
Mason, MI (PRWEB) July 10, 2008
As food and fuel prices rise, a new generation of farmers is looking to sustainable agriculture as a way to provide fresh local food to local consumers in ways that protect the planet. Sustainable Farmer is a new independent journalistic voice that offers them the information and advice that they need to succeed. Sustainable Farmer
"With gas at $4 a gallon, it no longer makes sense to ship broccoli from California and strawberries from Chile when local farmers want our business," says editor and publisher Bonnie Bucqueroux. "Food scares such as salmonella in spinach and tomatoes also mean people want to buy their family's food from growers they trust." Sustainable Farmer offers articles, videos, blogs and forums to serve the entire spectrum of sustainable farmers, from large-scale growers to families and communities seeking to raise more of their own food.
Sections include:

Farm profiles - Text and video packages on sustainable farmers exploring new ways to feed their communities using environmentally sound practices. Sustainable Farmer video
Growing food/raising animals - Reliable information from experts and growers.
Marketing matters - Strategies for farm markets, community-supported agriculture and using the Web to reach new customers.
Catering to cultures - A unique section on producing foods for ethnic and cultural groups, from soul food to Asian vegetables to goat's milk. The section includes information how to select and grow crops (including where to find seed), as well as advice on showing respect for cultural traditions.
Sustainable Farmer Forum - A place where experienced growers and researchers in sustainable agriculture can mentor newcomers to the field.
Food for thought - Essays, book reviews and blogs, including publisher Bonnie's Blog with commentary and first-hand stories of building a "hoophouse."
Energy options - Cutting-edge information on alternative energy strategies.
Business basics - From building a business plan to shopping for insurance.
"Sustainable Farmer will also analyze what federal, state and local government must do to cut red tape and support this growing movement," says Bucqueroux. "We need a reliable, affordable and safe local food supply that we can count on, and Sustainable Farmer is here to help make that goal a reality."
NOTE ABOUT THE PUBLISHER:
Editor and publisher Bonnie Bucqueroux recently retired from Michigan State University's School of Journalism, where she taught digital journalism, to devote herself full-time to this new publication. Earlier in her career, Bucqueroux was managing editor of Michigan Farmer magazine. She also earned a National Magazine Award for an article on farmer suicide for Farm Journal.
"I saw the increasing industrialization of agriculture firsthand, as farms became factories," says Bucqueroux. "This was the era when U.S. Secretary of Agriculture Earl Butz urged farmers to use every chemical in their arsenal to grow field crops fencerow to fencerow. I watched in horror as pigs found themselves crammed together in smaller and smaller spaces. And visiting a 50,000-bird poultry farm, with its de-beaked chickens stuffed in cages, quickly made me a vegetarian.
"Then came the PBB poisoning of Michigan, when this toxic fire retardant made its way into animal feed and then into us. That tragedy should have been a warning to us all that many of these new systems were unsustainable and incompatible with long-term health. Those experiences persuade me that I want to be a part of the sustainable agriculture movement. We must move quickly to invent a new food system that serves us all, while protecting the planet in the process."
###