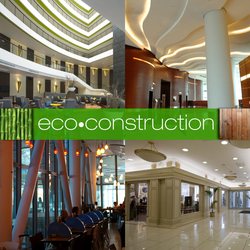 Understanding LEED Project Costs and Returns
Portland, ME (PRWEB) February 28, 2009
Green building consultant Jerry Yudelson has published his Top 10 list of green building trends for 2009. Yudelson says that green building will continue to grow in spite of the global credit crisis and the ongoing economic recession in most countries. And so, as the show must go on Eco-construction the must attend event for the green building industry focusing on hospitality and retail is set to take place April 21 - 22, 2009 in Chicago, IL at the Embassy Suites Downtown Chicago/Lakefront Hotel.
Eco-Construction 2009 will feature case studies from H-E-B, Choice Hotels and the Colorado Convention Center, as well as Spain GBC to cover different perspectives in the hospitality and retail industries globally. At Eco-Construction you will also learn about the innovations in lighting and energy efficiency for green construction with presentations from Philips Lumileds and Renewable Choice Energy.
The US Green Building Council will host "Understanding LEED Project Costs and Returns" a workshop to be held on the second day of the conference. Attend and gain insight on LEED project cost issues based on current data from LEED-certified projects and available research. Learn tools to calculate and evaluate cost and benefits of LEED certification and how to get maximum benefit from chosen resources. Learn strategies to build environmentally sound projects at a reasonable cost. You can find out more by visiting the Eco-Construction website.
With presentations from the leading industry experts H-E-B, The Carbon Neutral Company, Lucifer Lighting Company, Next Life, Green Building Services Inc., Choice Hotels, TurnKey Concepts, EMSI, CAO Group and the Head of Sustainability for the London 2012 Olympics, this conference is the place to be.
"We are proud to announce Peter Braithwaite, Head of Sustainability of the London 2012 Olympics, will be speaking on the London 2012 Olympics sustainable development strategy," says Barbara Rojas, Conference Producer. "The most high-profile event in the world, the Olympic Games, gives the green building industry a chance to show how changes in the way we build leads to better use of the planet's resources."
Conference Registration
Learn more by visiting Eco•Construction 2009 online or call Brian Santos at +1 207 781 9618 or email brian.santos@pira-international.com
About IntertechPira
IntertechPira provides events, training, online information and publications across a wide range of niche commodities and disruptive technologies affecting industry. Our 100% independent products are provided globally 24/7 and delivered by teams of independent experts at sites in Portland, Maine, US and London, UK through 20 specialized industrial platforms. Our core competencies are information on: research and product development; globalization and new markets; production methods; regulatory and compliance.
###