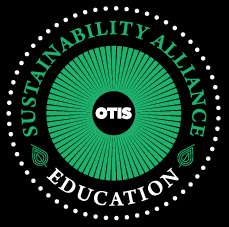 Fundamentally businesses are responsible to their resource base ... Without a healthy environment there are no shareholders, no employees, no customers, and no business.
Los Angeles, CA (PRWEB) April 29, 2013
Otis College of Art and Design is launching the Otis Sustainability Alliance; a partnership of industry leaders from the fields of fashion, design, art, and higher education committed to advancing environmental, social, and economic sustainability through their work and collaboration.
On May 4, 2013, at the Otis Scholarship Benefit and Fashion Show, the Otis Sustainability Alliance will be launched with recognition of the inaugural corporate partners: Eddie Bauer, Disney, Nike, Patagonia, Quiksilver, and Todd Oldham.
"Several megabrands are making major investments in changes that are better for the earth and for its natural capital," says Rosemary Brantley, Chair of Fashion Design at Otis. "Our goal is to create positive ripple effects. The Alliance members will collaborate with, inspire, and educate our faculty and students about the sustainable practices and priorities facing their industry. In turn, our students, as designers of the future, will have the training and vision to design products that 'do less harm' and help consumers make more thoughtful decisions about their fashion purchases."
As environmental concerns are heightened globally, companies are seeking opportunities to reduce waste and improve sustainability along the supply chain—from fiber growth and textile development, to post-consumer education, established standards, and certification programs. "Fundamentally businesses are responsible to their resource base," says Yvon Chouinard, founder of Patagonia and author of The Responsible Company: What We've Learned from Patagonia's First 40 Years. "Without a healthy environment there are no shareholders, no employees, no customers, and no business."
Recognizing the innovative role artists and designers can play in solving these pressing challenges, Otis College of Art and Design offers a Sustainability Minor for students to learn to become conscious of the environmental and social impacts of their projects and develop sustainable solutions. Otis students study and develop strategies and systems applicable to art and design that meet the needs of current generations without compromising those of future generations. The Sustainability Minor has seen higher enrollment than any other minor at Otis, and in recent years students have worked with companies such as Nike/Hurley, Yeohlee, Todd Oldham, Billabong, and Hape Inc. among others on design projects involving reuse, recycling, sustainable product development, and more.
About Otis College of Art and Design
Founded in Los Angeles in 1918, Otis College of Art and Design prepares diverse students of art and design to enrich the world through their creativity, their skill, and their vision. The College offers an interdisciplinary education for 1200 full-time students, awarding BFA degrees in Advertising, Architecture/Landscape/Interiors, Digital Media, Fashion Design, Illustration, Graphic Design, Product Design, Painting, Photography, Sculpture/New Genres, and Toy Design; and MFA degrees in Fine Arts, Graphic Design, Public Practice, and Writing. Continuing Education offers certificate programs as well as personal and professional development courses. Additional information is available at http://www.otis.edu.