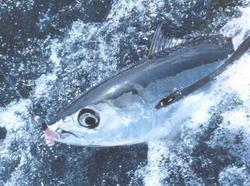 Preparing and serving sustainable seafood has become both a passion and a necessity for us.
Hilton Head Island, SC (PRWEB) September 15, 2010
The global seafood industry is currently facing rough waters, particularly when one considers that the world's oceans are being overfished and certain species are being rapidly depleted. Fortunately, there are indications that the seafood and restaurant industries are taking strides in order to make long-term changes that will begin to reverse the trend of overfishing around the world. Last month, Chef Eric Sayers of CQ's Restaurant in Hilton Head, SC was named a "Platinum Partner" for his involvement in South Carolina's revolutionary Sustainable Seafood Initiative (SSI), which emphasizes the responsible management and consumption of the world's seafood populations.
According to Eric Sayers, Executive Chef at CQ's Restaurant (http://www.cqsrestaurant.com), the initiative's primary focus is maintaining quality seafood supplies for consumers while conserving the needs of fish and shellfish populations in waters around the world. The Lowrey Group, which owns and operates CQ's, places an emphasis upon purchasing and serving locally and domestically caught seafood. Chef Sayers' fresh selections of sustainable seafood include unique recipes featuring local, Atlantic caught shrimp, Prince Edward Island mussels and local, line-caught Wreck Fish from the waters off nearby Charleston, South Carolina.
South Carolina's Sustainable Seafood Initiative (SSI) has forged long-term partnerships with outstanding restaurants that continuously exceed the requirements of the program, with select participants receiving prestigious "Platinum Partner" status for their continuous support of the SSI. The Lowrey Group's Celebrations Catering & Events (http://www.wecelebrateyou.com) division is a member of the SSI, offering sustainable seafood options for catered events, such as wedding receptions and corporate retreats.
Recently, Chef Sayers joined forces with fellow SSI "Platinum Partner" Chefs Jeremiah Bacon of Carolina's Restaurant and Charles Arena of The Boathouse in Charleston, SC. The chefs took advantage of the unique opportunity, blending their expertise and passions for sustainable seafood, as they prepared a highly memorable gourmet dinner that truly demonstrated the importance of South Carolina's Sustainable Seafood Initiative. The SSI hosts monthly dinner series that features restaurants and chefs that participate in the SSI. Typically, a gourmet meal consisting of four or five courses of sustainable seafood is paired with unique wines or beers, and guests are briefed and educated on timely developments surrounding the growing importance and popularity of the SSI.
Overall, South Carolina's Sustainable Seafood Initiative is greatly enhancing the public's awareness of overfishing as it relates to threatened marine species around the world, as well as emphasizing the oceans' delicate ecological balance as a whole. Please visit http://www.scaquarium.org/SSI/default.html for more information regarding the SSI, or visit The Lowrey Group's website, http://www.lowreygroup.com, to learn more about unique culinary offerings in the Lowcountry, featuring sustainable seafood options for gourmet dining throughout South Carolina and Hilton Head Island.
###