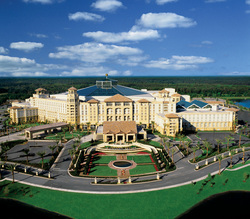 As a chef, I whole-heartedly embrace this change
Kissimmee, Fla. (PRWEB) August 8, 2007
Since opening in 2002, the chefs at Gaylord Palms Resort have had a "market inspired" philosophy in menu planning. This year, these culinary professionals have taken the philosophy one step further, by committing to supporting local, organic and sustainable farming in an effort to enhance and grow our local economy.
"In today's global marketplace, it can be easy to overlook what's going on in your backyard," said Robert Stanfield, director of Food & Beverage. "By supporting local farming, it has brought us closer to the core of our restaurant business, which is to serve the highest quality food to our guests."
To prepare for this initiative, each executive chef looked at existing menus to identify items that are grown within the state of Florida. The chefs then worked with the resort's purchasing department to determine the seasonality and availability of the items.
"As a chef, I whole-heartedly embrace this change," said Rob Gioia, executive chef at the resort's Sunset Sam Fish Camp. "By supporting our local farms, I am able to serve a superior product in season, and help our state's economy."
Every menu features a seasonal selection of local produce. For example:

While in season, Zellwood sweet corn was featured in the salsa that accompanies Crab Cakes served by Chef Goia at Sunset Sam's Fish Camp
Florida vine-ripened tomatoes are a stand-out in the Tomato & Vidalia Onion salad served by Chef Paul Player at Old Hickory Steakhouse
At Villa de Flora, Chef Rose Hall has prepared lunch and dinner items that feature a seemingly endless variety of locally-grown items, such as zucchini and eggplant from Plant City, Florida.
Breakfast diners at Villa de Flora are served fresh-squeezed orange and grapefruit juice from the Fort Pierce, Florida
In the convention center, Chef Earlest Bell provides side dishes inspired by what's fresh at the local farmer's market ... from asparagus to baby artichokes, as they are in season.
In addition, diners at the resort's restaurants and convention center are served seafood that arrives daily from Florida waters, with a focus on varieties that are sustainable. "For instance, we receive shipments from Fort Pierce, Cape Canaveral, Sebastian Inlet and even the Florida Keys," said Chef Gioia.
The "Fresh from Florida" items served at the resort vary depending on the season, with more choices available in the cooler winter months, when the harvests are more bountiful.
While chefs and restaurateurs may be concerned over potential higher costs and the challenges faced in finding the product or farms, the advantages in supporting sustainable farms are actually far more numerous than one might expect:
The time from farm to table is significantly decreased. Shorter shipping time means the produce is allowed to fully ripen before being picked. "This drastically changes the flavor profile of the fruits and vegetables, compared to items that are prematurely picked for extended shipping," said Chef Bell.
Buying locally helps support the Central Florida economy. This creates opportunities for more jobs and strengthening businesses, allowing those individuals to reinvest in our Central Florida community. In addition, as demand for sustainable farming increases, prices should continue to decrease on these items.
Shorter shipping distances saves fuel. Eliminating air travel and shorter transit distances drastically reduces the amount of fossil fuel consumed in bringing foods from farm to table. This helps to positively counteract the alarming global climate changes. "When was the last time you checked how far your tomato or fruit traveled?," joked Chef Hall. "It is common to receive items from Europe or deep in South America today. It's sad to think that some fruits and vegetables are better traveled than I am."
"When dining in any one of our restaurants, our guests can expect a flawless dining experience," said Chef Player. "The simple practice of purchasing locally allows us to take care of not just our visiting guests, but also those guests who come from our own community. By supporting our local farmers, we are building the cycle of a sustainable farming, the growth our economy and most importantly ... great food."
About Gaylord Palms
Gaylord Palms, a landmark resort and convention center in the Kissimmee resort area, features high-tech convention facilities, award-winning restaurants, the prestigious Canyon Ranch SpaClub and colorful Florida themes that carry throughout an expansive 4.5-acre glass-topped atrium and into each of the 1,406 guest rooms.
The 2.1-million-square-foot resort, located five minutes from the gates of Walt Disney World, is designed in the tradition of a grand 19th-century Florida seaside resort. The hotel's appearance is distinct and completely themed to the Sunshine State, including the locales of St. Augustine, Key West, the Emerald Coast, Miami's South Beach and the Everglades.
For five years in a row, Gaylord Palms has been named "Best Florida Resort" by Florida Monthly magazine. Since opening, the resort and its restaurants have also received a host of other honors, including the prestigious AAA 4-Diamond Award, Distinguished Restaurants of North America Award (DiRōNA), Wine Spectator Award of Excellence, and the Gold Key Elite from Meetings & Conventions magazine.
Dining at Gaylord Palms includes three signature restaurants: Old Hickory, a traditional and serious steakhouse in a whimsical Everglades setting; Sunset Sam's Fish Camp, featuring fresh seafood and Key West fun; and Villa de Flora, a unique Mediterranean marketplace.
About Gaylord Hotels
Gaylord Palms Resort & Convention Center has gained the attention of the meeting and convention industry by providing world-class convention and leisure-focused amenities - all in one place. The award-winning Gaylord Palms is a Gaylord Hotels-branded property owned by Gaylord Entertainment (NYSE: GET), a leading hospitality and entertainment company based in Nashville, Tenn. For more information, visit http://www.gaylordpalms.com or http://www.gaylordentertainment.com.
Guest Information: Gaylord Palms Resort, (407) 586-0000, http://www.gaylordpalms.com
# # #