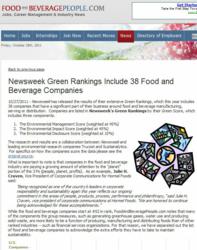 Princeton, N.J. (PRWEB) October 28, 2011
FoodAndBeveragePeople.com, a website for and about the people that drive the food industry in the United States, has reviewed Newsweek's annual Green Rankings. The list includes 38 companies that are involved with the food and beverage industry.
While the food and beverage companies start at #52 in rank, FoodAndBeveragePeople.com notes that many of the components the group measures, such as generating greenhouse gases, water use and producing solid waste, are inherent in the function of producing, manufacturing and distributing foods.
That is less true of other ranked industries -- such as financial services organizations. For that reason, our editors have separated the list of food and beverage companies, leaving in the original assigned ranks. What is important to note is that companies in the food and beverage industry, such as Coca-Cola Enterprises and Starbucks, are paying a growing amount of attention to the "planet" portion of the 3 Ps (people, planet, profits). A full list of the 38 green food and beverage companies is available on the website. While there is room for improvement, we acknowledge and appreciate the individuals and organizations that are focusing on sustainability for all of our futures.
About the website: FoodAndBeveragePeople.com ( food and beverage people dot com ) is for and about the people that drive the food and beverage industry in the United States. Industry professionals at every stage of their career will find jobs, news, newsmakers, and industry trends that will help inform their business and career decisions. Individuals needing to keep up with the vast food and beverage industry, but with little time to spare, can sign up on the site for free e-mail newsletter service or follow us on Twitter @foodandbevbiz .
###