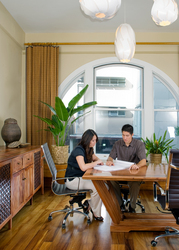 Group 70 International's second floor office LEED certification demonstrates tremendous green building leadership
Honolulu (Vocus) August 21, 2009
Group 70 International has successfully transformed the second floor of Honolulu Chinatown's 102-year-old McCandless Building into an example of the highest level of sustainability. The firm's second floor interior renovation project, which includes several of its staff offices, common areas and recently opened sustainable design center, has received the Platinum level of Leadership in Energy and Environmental Design (LEED) Commercial Interiors (CI) certification from the U.S. Green Building Council (USGBC).
It is the first LEED Platinum CI project in Hawai'i.
"Group 70 International's second floor office LEED certification demonstrates tremendous green building leadership," said Rick Fedrizzi, USGBC president, CEO and founding chair. "The urgency of USGBC's mission has challenged the industry to move faster and reach further than ever before, and Group 70 serves as a prime example with just how much we can accomplish."
"Group 70's second floor renovation demonstrates that you can achieve LEED Platinum certification in a historic building space at an affordable price," said Charles Kaneshiro, AIA, principal at Group 70. "As a leader in sustainable development, it is important for Group 70 to practice what we preach. Our sustainable design center helps us to educate clients and leaders in the community about sustainability in a tangible sense, providing a venue to see and touch a variety of sustainable development products and technologies available today. By achieving LEED Platinum certification for our second floor, we are demonstrating that the highest standard is possible, all at a competitive price. This counters a common misconception that it costs more to do a renovation using sustainable and green concepts."
The renovation of the 5,700-square-foot second floor space took approximately seven months, completed at a cost of $84 per square foot. By comparison, traditional interior renovations can cost about $200 per square foot. Environmentally conscious design, careful planning and material selection are just a few of the aspects that factored into determining Platinum certification.
Historic buildings often create their own obstacles for meeting modern LEED standards. For example, reusing existing materials is a challenge. Still, Group 70 was able to reuse 60 percent of existing materials, including portions of the walls, exterior windows, flooring, lights and the air-conditioning system. The firm reduced electrical and water usage by retrofitting fixtures and replacing 90 percent of the office equipment with Energy Star versions. The firm also used many products made from recycled or rapidly renewable materials, such as recycled content carpet, carpet tiles and office chairs, and materials made from reeds and bamboo.
Group 70's sustainable design center, opened in January, is a comprehensive resource center and showroom, providing clients and select community groups with direct access to sustainable technologies, a multitude of environmental products that are now available, and the expertise of the firm's 33 LEED Accredited Professionals.
Group 70's other selected LEED certified and registered projects include:

Hawai'i Baptist Academy Middle School -- LEED Gold New Construction (NC) Version 2.1
Group 70 Interior Design Studio -- LEED Silver CI Pilot Program
Halau Ho'olako Community Resource Center (Kanu O Ka 'Aina) -- Registered under LEED NC
Kauai Community Federal Credit Union -- Registered under LEED NC
Waikoloa Kings' Land Clubhouse - Registered under LEED NC
University of Hawai'i Center for Microbial Oceanography: Research and Education -- Registered under LEED NC/Labs 21
Honolulu Waldorf School - Registered under LEED CI
University of Hawai'i Translational Science Laboratory - Registered under LEED CI
The USGBC's LEED program is the most recognized certification program for sustainable building. LEED is a performance-based program that awards development and construction related projects four levels of achieved certification dependant on energy efficiency and sustainable design practices. Based on the number of credits achieved for each category of the program, the project is then awarded a level of certification ranging from Certified, Silver, Gold and (the highest level) Platinum.
Founded in 1971 in Honolulu, Group 70 International, Inc. is an award-winning firm specializing in sustainable development, architecture, planning and environmental services, interior design and assets management. Group 70 is known for innovative designs and cultural and environmental sensitivity in community consensus building. For more information, visit group70int.com.
# # #