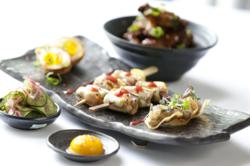 San Francisco, CA (Vocus/PRWEB) June 28, 2011
Zen Compound, a multifaceted business that includes Temple Nightclub, recording label Temple Music Group, internet radio station ZCFM, and TV Production Department Temple TV, is now home to Ki Sushi. Ki Sushi is a sustainable sushi and izakaya bar in the heart of the SOMA district in San Francisco. Ki Sushi is a modern version of a traditional Japanese drinking establishment known as an izakaya, which that serves small plates to accompany the drinks.
"I was drawn to the izakaya concept, which is about Japanese tapas and small plates; it's almost like a Japanese-style pub," said Zen Compound owner and founder Paul Hemming. Wanting to maintain high-quality food in a nightclub environment, and still integrate his philosophies on sustainability, Hemming opened Ki after meeting with Casson Trenor, author of Sustainable Sushi: A Guide to Saving the Oceans One Bite at a Time. "Trenor was really intrigued by what we were doing by bringing sustainability to a nightclub concept, and he thought it would be the perfect vehicle to help expand his message," said Hemming.
Continuing his interest in fusing synthetic with organic and old with new, Owner Paul Hemming designed the space with a balance of futuristic and classic Japanese elements to create an "izakaya of the future" inspired atmosphere. The space was transformed with LED-lit shoji screens, geisha and samurai art work from UK-based graffiti artist Hush, known worldwide for his street-art-style blend of anime-inspired and pop art images. The LED's create a full spectrum of different color lighting options to change the mood of the room. Three large LCD screens are programmed with custom graphics of reinterpreted Japanese art, inspired by wood block printing.
For more information about Ki Sushi, call them at (415) 278-0495, or visit their restaurant at 540 Howard Street in San Francisco. Visit them on the web at http://www.ki-sushisf.com.
About Ki Sushi
Ki Sushi is a San Francisco sustainable sushi restaurant that gives patrons an opportunity to experience a modern, environmentally conscious interpretation of classic Japanese fare while offering an eco-sensitive experience. Sushi, yakitori, and other classic izakaya dishes are reinvented through the lenses of sustainability and local/seasonal awareness. Ki Sushi serves the best sushi in the San Francisco Bay Area.
About Zen Compound
The Zen Compound is an entertainment complex, with its finger on society's pulse, and designed to go well beyond a traditional nightclub and world-class restaurant. More than a place for people to unwind and stimulate their senses, the Zen Compound is a hub of creative spirituality—exactly as the name suggests. Visitors to the Compound create and perform art, music and dance while they are enriching their Western experience with an Eastern education. The Zen Compound merges modern design with antiquities dating back to the 11th Century and ancient philosophy with cutting-edge technology. In addition, it houses a culinary, visual and audio spectacle while cultivating the first pioneering program for nightclub sustainability in the United States.
###