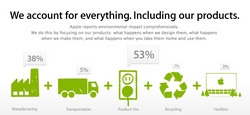 Where we shop and what we buy are more important than ever. I've seen more positive change in the past three years than the previous thirty toward sustainability and responsibility because consumers and employees are demanding it.
San Diego, CA (PRWEB) November 24, 2009
"If you're interested in a better future, be a force for good with your wallet and support stores that have your future in mind," states Will Marre, CEO of REALeadership Alliance and author of Save the World and Still Be Home For Dinner (Capital Books). In order to promote enlightened shopping during the holiday season, REALeadership Alliance released a list of top sustainable retailers to encourage shoppers to support companies that are taking full responsibility for their impact on people and the planet. The companies are Gap, Kohl's, Staples, REI, Wal-Mart, Target, Best Buy, Nike, Lowes, and Apple. According to Marre, all of these companies represent the strategic integration of sustainability and positive human impact.
One surprising company on the list is Apple, Inc.. According to Marre, Apple may not be as advanced as some companies as far as CSR initiatives go, but the actual products they create are sustainability in action. Like Apple, advanced computer manufacturers such as HP and Dell are all invested in sustainable design, manufacturing, packaging, transportation, reuse and disposal of their products. What sets Apple apart is that they have nearly single-handedly transformed a physical product into a digital service that has saved millions of tons of carbon emissions by eliminating the need to manufacture, ship and display and sell CDs. Apple has eliminated nearly all non-value added waste from a worldwide industry. As of September 2009, 220 million iPods have been sold and iTunes has sold over 8.5 billion songs. That's the equivalent of 85 million CDs that would have been made, shipped and someday discarded in overloaded landfills. "This is the first wave of sustainable innovation. The amount of energy and waste conserved through the iPod is truly mind-blowing," says Marre who contends that sustainable innovation is leading to a radically new economy.
Marre announced that he was working with a team of sustainability economists and other experts to identify the top 25 companies who are leaders of the new sustainable economy. Their criteria includes profitability, growth and sustainable innovations as well as green business practices and CSR policies. Their research will be published in 2010.
The stores to avoid this holiday shopping season, contends Marre, are all of the "dollar" stores. This is because dollar stores tend to promote foreign sweatshops that make trivial products that fill landfills with junk. Marre asserts that quality and durability are key in the sustainable process, and dollar stores are among the biggest violators. "When we buy junk made in foreign sweat shops that will be discarded quickly, often within days of purchase, we're doing everything that's wrong with consumption," states Marre. "Our stocking stuffers should be healthy fruit bought at the local farmer's market and homemade cookies rather than junk made in foreign sweatshops. We should buy quality, not quantity."
Marre is passionate about the influence consumers have for a better future. He states, "Where we shop and what we buy are more important than ever. I've seen more positive change in the past three years than the previous thirty toward sustainability and responsibility. And it's happening for one reason. Consumers and employees are demanding it." He continues, "Just five years ago sustainability and corporate social responsibility were something tree huggers and hippies whined about. Today it is driving corporate strategy. It's time to turn up the volume of our demands for business to use their power and innovation to create sustainable value."
For more information on REALeadership's Top Ten Sustainable Retailers, visit SavetheWorldBook.com.
About Will Marre:
Will is an Emmy Award-winning writer, speaker and coach. He is the co-founder and former president of the Covey Leadership Center (The 7 Habits of Highly Effective People) and CEO of the REALeadership Alliance where he helps leaders identify, communicate and implement new socially strategic business models. Will has been a personal leadership coach and adviser to multi-billion dollar global companies such as Disney and Johnson & Johnson. For the past 10 years he has focused on making corporate social responsibility strategic. His new book, Save the World and Still Be Home For Dinner, is available now.
For more information on opportunities to have Will speak, please visit WillMarre.com, or for more information on Will's consulting practice, please visit Realeadership.com. You can also follow Will on Twitter (@WillMarre) and Facebook.
###