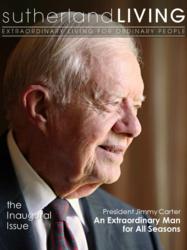 Sutherland Living Magazine features President Jimmy Carter
Irvine, CA (PRWEB) July 20, 2012
Beyond the "People Profiles" described above, a travel and exploration section provides highlights of the Costa del Sol region of southern Spain, as well as Tangier, Morocco, in northern Africa; a basics of decorating article entitled, "Demystifying the Art of Decorating" is presented in our "Interior Design" section; a finance article focuses on debt reduction; and the "Sound, Stage, and Screen" section covers the movie "Midnight in Paris." The above lists a sampling of content from this exciting first release of Sutherland Living magazine. The summer issue continues exploring ordinary people's passions, such as Spirituality, Family Living, Garden and Earth, Art and Architecture, and Technology, an ever important topic in today's fast paced world.
Sutherland Living has three components:
Sutherland Life - The daily journal for Sutherland Living, which provides continuous updates and brief, informal articles on topics of interest within the Sutherland Living brand.
Sutherland Living – The magazine for Sutherland Living, which provides in-depth articles on a quarterly basis, and is displayed online in a magazine/reader layout format.
Sutherland Living Images – Billed as "Capturing the Extraordinary," this component features online galleries of artists' work, including amateur artists, up-and-coming artists, as well as professionals. This element also provides a channel to display the photography taken specifically for Sutherland Living, but not necessarily displayed in the Sutherland Living magazine.
The Sutherland Living online magazine can be accessed at http://www.sutherlandliving.com. Registration for the site is complimentary.
About Sutherland Living
Sutherland Living is an online magazine that showcases the integrity of ordinary people living their lives in an extraordinary way. In addition to the Profiles section, Sutherland Living covers Arts, Food, Travel/Adventure, Sports, Architecture/Interior Design, Spirituality, and more. Sutherland Living's focus is global, as its theme transcends cultural and geographic boundaries.
The purpose of the publication is to inspire others, and emphasize that one's ordinary way of living can be, and is, indeed, extraordinary. Sutherland Living is not about perfection, rather it is about the authentic manner in which one lives his or her life, sharing that with others, and in turn, inspiring them to believe in and move forward with their own passion for the betterment of humanity and their own lives. Sutherland Living champions ordinary people's passions, both great and small. Sutherland Living is about redefining what truly is extraordinary by highlighting the extraordinary in ordinary people.
Part of Sutherland Living's mission is to recognize people who are contributing back to society in some form, and encourage others to do the same, in any way that they can. Sutherland Living believes that small actions can make a big difference, especially when a greater number of people begin taking those small actions to help others, and to help make the world a better place. As a part of the "giving back" portion of Sutherland Living's mission, a charity will be featured in each issue of the magazine.
Sutherland Living believes that people are changing their behaviors and attitudes permanently as a result of the toll that the recession of the past few years has taken. Sutherland Living therefore recognizes that people of all walks of life are appreciating different things, and placing less emphasis on material possessions, climbing the corporate ladder, and achieving some form of "status." Instead, Sutherland Living believes that people are now more focused on reducing debt, living within their means, developing meaningful and lasting relationships, finding the small things in life that bring happiness, and recognizing that knowing and helping one's neighbors is a priority worth greater emphasis.