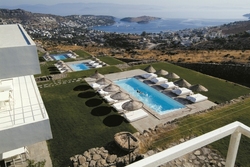 The SUU Hotels bring a compelling blend of natural outdoor beauty with sleek, modern and elegant décor.
Istanbul, Turkey (Vocus) July 14, 2010
The SUU Hotels, a remarkable brand of lifestyle small hotels, today announced its opening of two new locations. Aesthetically decorated and inspired by Xantos Francesco Corleone, a European who has spent his life traveling the world's most exclusive hotels and resorts, The SUU Hotels aim to blend culture, beauty, perfection and purity into its lifestyle hotels. Each of its centrally-located lifestyle small hotels combines breathtaking mountain and oceanic views, with contemporary and sleek decor. Creatively decorated, The SUU was designed to offer guests a destination for rest and relaxation. The relaxing and elegant ambiance was specifically designed to offer the upscale traveler unique amenities and personalized service.
"The SUU Hotels bring a compelling blend of natural outdoor beauty with sleek, modern and elegant décor," said Cenk Kinay, CEO and founder of The SUU. "We want our brand to distinguish itself from the others by providing superb personal service in a relaxed and elegant refuge in the most spectacular destinations of the world."
The SUU represents purity of the mind, body and soul, as guests are able to relax with the hotels' luxurious services. Yoga programs and healing treatments are held at each hotel's movement pavilion, where complimentary yoga classes are taught daily to help guests reach a place of absolute bliss and contentment. Butlers are present to extend personalized service and to help guests feel welcomed from the moment they arrive. Poolside butlers offer an afternoon fruit sorbet, Evian spring water, fresh towels and cucumbers. Guests can also be pampered while they indulge in serene indoor and outdoor spa services with organic products that include natural spices, fruits and minerals, indigenous to the area.
The SUU provides an exquisite dining experience to suit everyone's tastes. Each menu item is made with fresh and organic ingredients and can be served on each guest's terrace, poolside, beneath a canopy of stars or overlooking the deep blue sea. For those looking for a more intimate experience, a personal chef is also available upon request. Special Xantos menu items have been pre-selected so that gastronomes can distinguish The SUU's signature dishes. Guests can also enjoy the hotels' exclusive wine selection, while watching the sunset and taking in the picturesque oceanic views.
The SUU combines the natural environment with contemporary and sleek décor. Its all-white ambiance offers guests an entire holistic experience. Guests can relax and be pampered, while all their cares are left behind.
"We want to offer first class services and amenities to guests seeking a holistic experience in a modern, yet comfortable atmosphere," said Teresa Alfonso, vice-president of The SUU. "Our guests should leave our hotels feeling rejuvenated and refreshed, having achieved an absolute feeling of purity and balance."
The SUU Türkbükü, situated on the northern shore of the Bodrum peninsula in Turkey, offers tranquil, luxury accommodation, steps away from the crystal blue waters of the Aegean Sea. Having opened its doors on June 30th, 2010, the exclusive lifestyle villas provide its guests a sense of tranquility and rejuvenation in Turkey's best kept secret. Located in a rugged region off the Turkish coast, the 48 villas boast stunning views of picturesque mountains that drop steeply into the clear sea waters, surrounded by luscious orchards of lemons and tangerines.
Coming soon to The SUU, is its new location. The SUU Manuel Antonio, opening in August 2010, is located in the tropical rainforests of Costa Rica, just a few minutes away from Manuel Antonio's world-famous national park. In walking distance from the hotel, is the beautiful Biesanz Beach, which is easily accessible by a trail through the forest.
The SUU plans to develop new destinations, to include locations in Asia, Marrakesh, Mikonos, Riviera Maya, Ibiza, Majorca, St. Barts and Tunisia. For more information about The SUU Hotels, please visit http://www.thesuuhotels.com.
MEDIA CONTACT:
Michelle Fonticiella
Levy Communications
305.592.5389 X 108 O
305.592.9443 F
###