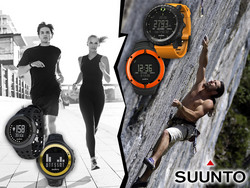 (PRWEB) February 25, 2011
Suunto Watches are for active people of all standards whether into fitness training, outdoors enthusiasts or participating in leisure or race sailing.
Suunto Watches boast a newly expanded range of fitness and sport watches which cater for the whole spectrum of outdoors activities and gym training and exercising.
Light exercisers who are looking to improve their well being, monitor their heart rate and/or manage their weight will be well served by the great-value Suunto M1, M2 and t1c models.
The Suunto M2, for example, displays heart rate and calories burned in real time and can monitor personalised exercise targets.
As training becomes more serious, you may then move on to utilising the mid-range wrist-top computers for an ideal Training Partner giving real-time Training Effect (t3d) or even a Personal Coach (t4d) laying out personalised training schedules to guide you towards reaching your goals.
The most dedicated trainers and athletes will benefit from Suunto's Virtual Coach adaptive recommendations to keep them right on schedule to hit their performance targets. They also will appreciate the benefits of connectivity to the Movescount.com site (via PC POD or Movestick for Suunto t3, t4, M4 and M5 watches and directly via USB for Suunto t6 units).
Suunto's innovative Movescount.com website is a community site for sharing experiences, activity logs and ideas with like-minded people and is already very popular with Suunto fitness and endurance sport participants.
Suunto's Altimeter, Barometer & Compass (ABC) watches set the standard in outdoors wrist-top computers with the Suunto Core their market leader and available in a wide range of case and strap designs, including the best-selling Suunto Core All Black and All Black Military versions.
Suunto ABC watches log your position and let you plot your next move but they can also warn you of bad weather ahead as well as offering chronograph timing features to keep you on time as well as on track.
The Suunto outdoors watch range also includes the Observer, the Vector and the new X10 GPS watch.
The X10 is an impressive light and compact watch that offers full GPS functionality and PC connectivity, enabling you to record routes, mark waypoints and track speed and distance.
The Suunto X10 also lets you view tracks, plan and visualize routes on Movescount.com using the cable provided (on PC and Mac).
For sailing enthusiasts, the prestigious Suunto Yachtsman Sailing Watch offers an electronic compass as well as barometer readings and temperature to put you one step ahead of any storm. There is a choice of durable luxury quality water-resistant leather or waterproof neoprene strap.
For racers, the Yachtsman also boasts a multi-setting sailing countdown timer and chronograph timing functions as well as the basic necessities for a sailing watch, big and very readable display plus audible warning signals.
The Regatta is another Suunto sailing watch which gives competition sailors the timing and navigation information they rely on to compete with the best.
###