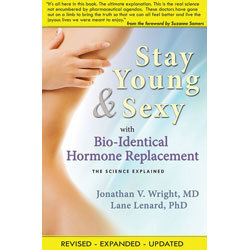 Dr. Wright has just released a book entitled, Stay Young & Sexy with Bio-Identical Hormone Replacement. I encourage you to check it out as a comprehensive guide to BHRT. - Suzanne Somers
Petaluma, CA (PRWEB) February 10, 2010
Actress and author Suzanne Somers is promoting a new book about bio-identical hormones, but it's not one she has written. Instead, Somers is trying to get the word out about "Stay Young & Sexy with Bio-Identical Hormone Replacement" by Jonathan V. Wright M.D. & Lane Lenard, PhD.
To achieve this goal, Somers is conducting a series of interviews with Dr. Wright on her blog at http://www.suzannesomers.com. In introducing the series, Somers wrote:
"I have had the pleasure of working with Dr. Jonathan Wright for the past several years. He is the 'Father of Bio-identical Hormone Replacement Therapy' as the very first doctor to prescribe these natural hormones in the United States. My last few books detail the benefits of using bio-identical hormones in place of synthetic hormones. For in-depth information, please reference The Sexy Years, Ageless, and Breakthrough. Since Dr. Wright is the premier expert in this field, I have asked him to participate in a new series of blogs to explore many of your specific questions about BHRT. Plus, the timing is good for him since he has just released a book entitled, 'Stay Young & Sexy with Bio-Identical Hormone Replacement.' I encourage you to check it out as a comprehensive guide to BHRT."
Somers support of Dr. Wright's work and his new book does not end with the series of blog interviews. Somers also wrote the foreword to "Stay Young & Sexy." Wrote Somers: "This book explains the difference between natural hormones and manmade hormones. It is the manmade hormones that have been proven dangerous, but in this book you will see the studies and scientific backup that prove the efficacy and joys of replacing natural hormones with real, bio-identical hormones that have been lost through the aging process or from the stress of today's hectic lifestyles.
"It's all here in this book - the ultimate explanation. This is the real science, not encumbered by pharmaceutical agendas. These doctors have gone out on a limb to bring you the truth so that we can all feel better and live the joyous lives we were meant to live.
"I recommend that you read this book cover to cover and then use it as your 'bio-identical hormone reference bible.' Whatever information you are looking for will be here; all the answers lie within. This is a tremendous piece of work that has taken years of intensive study and clinical application to accomplish. Dr. Jonathan V. Wright and Dr. Lane Lenard will one day be known as the doctors who changed medicine against all odds and against violent opposition."
The publishers of "Stay Young & Sexy with Bio-Identical Hormone Replacement" have set up a website at http://www.stayyoungandsexy.com where the book can be purchased. All book purchasers will receive a voucher for a free sex-enhancing herbal supplement product from a respected dietary supplement company.
# # #