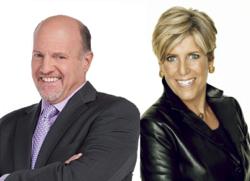 Many adults eventually learn smart money habits by means of trial and error, but these popular television shows remove the guesswork and provide practical, easy-to-follow guidance.
El Segundo, CA (PRWEB) November 13, 2012
Watching TV is often regarded as a mindless activity, but Go Banking Rates has identified five television shows that can actually improve the way consumers understand and manage their finances. Hosted by popular finance gurus and personalities, Go Banking Rates selects the following programs as the best for those who wish to improve their financial literacy.
1. The Suze Orman Show - MSNBC
Suze Orman's "tell-it-like-it-is" attitude and practical tips help watchers achieve their life goals. During her "Can You Afford It" segment, Orman closely examines each caller's financial situation to determine whether they can afford a particular purchase -- vacation, new home, home remodel, etc. Plus, she addresses a number of viewer questions and concerns via webcam.
2. Money 911 - NBC Today Show
David Bach, one of the financial experts on Money 911, provides on-air answers to questions received by Today Show viewers. Bach tackles questions on topics, such as credit card debt, home appraisals, mortgages, investments and savings. He educates viewers on the difference between good debt and bad debt, and preaches the importance of financial freedom through debt elimination.
3. Clark Howard Show - HLN
Clark Howard believes that saving money and penny-pinching is the way to survive tough financial times. Always on the watch for the next best deal, Howard offers advice for scoring discounts on practically everything -- vacations, mobile phone service, groceries and entertainment.
4. Mad Money - CNBC
One glimpse of Jim Cramer's energetic, high-strung antics, and viewers may reach for the remote control. But if they can get passed the sound effects, rants and yelling, Cramer offers practical advice for playing the stock market. He encourages diversification, discusses how to identify danger zones, as well as when to sell and buy. Cramer also offers his pick of potentially profitable stocks.
5. Til Debt Do Us Part - MSNBC
Financial expert Gail Vaz-Oxlade takes couples therapy to another level. Each week she meets with a different couple and helps them through their toughest financial problem -- consumer debt. There's no sugarcoating as Vaz-Oxlade forces couples to come face-to-face with their balances and realize the long-term consequences of excessive spending. Through a series of challenges, couples learn how to live on less and develop a financial recovery strategy.
Click here to read the full article.
About Go Banking Rates
Go Banking Rates (GoBankingRates.com) a national website dedicated to connecting readers with the best interest rates on financial services nationwide, as well as informative personal finance content, news and tools. Go Banking Rates collects interest rate information from more than 4,000 U.S. banks and credit unions, making it the only online rates aggregator with the ability to provide the most comprehensive and authentic local interest rate information. Go Banking Rates also regularly publishes expert advice from personal finance professionals.
GoBankingRates.com belongs to a network of more than 1500 finance websites, including GoInsuranceRates.com and GoFreeCredit.com. These sites receive more than 2 million visits each month.
For questions or comments, please contact:
Jaime Catmull, Director of Public Relations
http://www.GoBankingRates.com
JaimeC(at)GoBankingRates(dot)com
310.297.9233 x261
###