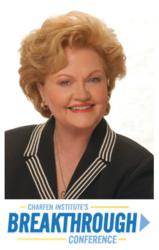 ...funny, honest, completely original — she captivates her audience with a unique sense of humor...
Austin, TX (PRWEB) May 10, 2012
Alex Charfen, CEO of the Charfen Institute, announced today that the company's lineup of speakers for its July 15-18, 2012, Breakthrough Conference in Las Vegas will now include Motivational and Inspirational Humorist Suzie Humphreys.
In its inaugural year, Charfen Institute's Breakthrough Conference presents an unprecedented networking and production-boosting opportunity for real estate agents. For the first time ever, it will bring together top-producing real estate agents including STAR POWER® Stars, Certified Distressed Property Experts® (CDPE), Certified Investor Agent Specialists® (CIAS), and other real estate professionals.
"Suzie's lighthearted perspective on life is funny, honest, completely original and will be a perfect addition to our list of keynote presenters at Breakthrough 2012," said Charfen. "When Suzie speaks, she captivates her audience with a unique sense of humor, and with her unshakable optimism she, always creates a memorable presentation attendees love."
Suzie's background is as varied as her audiences — from administrative secretary to Television Talk Show Host, to 20 years in radio. She has hobnobbed with movie stars and politicians, interviewed the great and the "near" great. She has made hundreds of commercials, done musical comedy and motion pictures. She has been fired, been broke, been disappointed, been a petrified expectant mother at 40 years old, survived breast cancer and lived her life with a passion for learning not only how to be better, but to see things differently.
"I've known Alex for years and am excited to join him at the July Breakthrough Conference," said Humphrey's. "It is always a pleasure to teach and inspire industry leaders while having fun."
For more information about Charfen Institute's Breakthrough Conference and the complete lineup of more than 45 speakers, visit: http://charfenbreakthrough.com
About Charfen Institute
The Charfen Institute educates and trains real estate professionals and small business owners to find opportunities in chaos – either by providing solutions to the foreclosure crisis or empowering entrepreneurs with strategies to embrace their companies' full potential. The company produces more than 300 educational events each year through various divisions, including: the Certified Distressed Property Expert® (CDPE) Designation (http://www.cdpe.com), the Certified Investor Agent Specialist® (CIAS) Designation (http://www.cias.com), LEAD Experience™. The CDPE Designation is the fastest growing independent designation in real estate industry history, with more than 39,500 agents trained since 2008. In 2011, the Charfen Institute ranked No. 21 on the Inc. 500 List of America's Fastest-Growing Private Companies.
About Suzie Humphreys
Suzie Humphreys is a professional speaker and motivational & inspirational humorist who has been speaking for over 25 years. In 2002, Humphreys received the Council Of Peers Award Of Excellence from the National Speakers Association and was inducted into the Speaker Hall Of Fame, and in 2004 she was inducted into the Texas Radio Hall Of Fame. For more information on Suzie visit http://www.suziehumphreys.com.