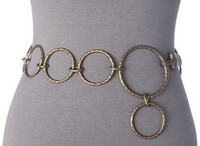 The accessory business is driven on newness and that's what our company is all about
Toronto, Ontario, Canada (PRWEB) April 1, 2009
In a two month-long tour of the US, Toronto-based custom belt designer Suzi Roher will be personally showing her upcoming Fall/Winter 2009 collection of women's belts at high-end fashion stores in Los Angeles, Atlanta, Dallas, New York and Chicago.
The new Fall/Winter 2009 collection is broken into "stories", each with a unique look and material, including signature basic metal link belts, ethnic belts, resin belts using a new quilted leather, "strong but not so silent" belts with brass buckles, jewelry chain belts, and belts with horn buckles and beautiful croc leather. Some of Suzi's belts will be featured in editorials in Vogue (style #5151 in May 09 issue) and Elle (style #5162 in April 09 issue) magazines this spring.
"The accessory business is driven on newness and that's what our company is all about," states Suzi Roher. "Being on the leading edge of construction, new materials, design, and quality. It's a great challenge."
Suzi Roher creates her eclectic, custom, handmade belts in the belief that women appreciate an element of fantasy. Buyers are consistently impressed by the incredible range of colors and fabrications, which enables Suzi to tailor a collection to a store's specific needs. Some styles in her collection include belts with elastic under the hardware creating versatility and adjustability, without sacrificing comfort for style.
In June, Suzi Roher will conduct a special workshop for all Neiman Marcus store managers and will continue to do trunk shows throughout the year at Neiman Marcus stores. For more information about Suzi Roher's Fall/Winter 2009 tour and to purchase a custom belt, visit her Website at http://www.suziroher.com.
About Suzi Roher
Suzi Roher's distinctive handmade belts have been an open secret with style connoisseurs since they first appeared on the scene over 24 years ago. Determined to maintain the most rigorous quality control, Roher personally oversees the manufacture of her designs from her factory in Toronto. Today, Suzi Roher's handmade belts may be found at prestigious merchants throughout the United States, Canada, UK and Europe or via SuziRoher.com
###