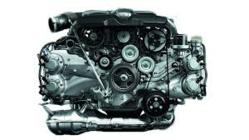 The new inventory increases for G13A edition online are designed to help owners of Suzuki vehicles.
San Francisco, California (PRWEB) February 14, 2013
Suzuki is one of the top five Japanese automakers and produces millions of vehicles sold worldwide. The recent termination of this brand in the United States has helped the UsedEngines.co company to acquire popular motors for sale. The Suzuki Samurai engine is one of the most requested for preowned vehicles in this type in 1.3 size and can now be found for customer sale online at http://www.usedengines.co/suzuki/suzuki-samurai-engine. This new offering is expected to provide one of the only resources currently available on the Internet to find these import motors.
The Samurai was created in 1984 and remained in production until 1995 when it was replaced by the Sidekick. The small four-cylinder motor in 1.3 size used inside the Samurai was the addition that outlasted many of the other motors used in this vehicle series.
The new inventory increases for G13A edition online are designed to help owners of Suzuki vehicles, mechanics and third party installation companies find a preowned engine in excellent condition. This company now holds one of the largest import motor inventories currently marketed online.
In response to recent inventory increases, the UsedEngines.co company has lowered pricing for many of the makes and models found in the company warehouse. These reductions in price have been selected as an incentive for buyers to locate discounted prices for some of the most popular motors. The Ford, Chevy, Dodge, Honda, Subaru and Toyota brands have all received new pricing for these secondary engines. Through a low mileage acquisition process, these additions are priced accordingly for the amount of mileage located on each block.
The recent price reductions at this company has helped to provide more cost savings in other areas that relate to customers. New employee additions to this company now makes it possible to receive immediate engine information by calling the company toll-free number or by requesting online service. The offer to ship all engines free of charge remains in place as one additional way to lower the engine replacement cost when ordered online. These measures have helped more customers in the U.S. this year.
About Used Engines Co.
The Used Engines Co. begin selling its low priced foreign and domestic motors online in 2009. The past several years have been growth periods for this company. The construction of the company warehouse to hold thousands of engines has helped this company inventory makes and models from nearly all automakers in the world. The Used Engines Co. frequently reduces its engine pricing to help all customers save money purchasing preowned engines that are shipped in North America. Through warranty coverage and evaluations before shipment, this company continues to provide higher value to customers.