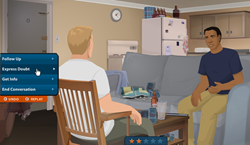 "It is critical that institutions of higher education create conditions for student veterans to thrive both academically and socially as they transition back to civilian life." - Michael Dakduk, SVA Executive Director
Washington, DC (PRWEB) September 18, 2013
Student Veterans of America (SVA) and Kognito Interactive today announced a partnership to provide institutions of higher education with a suite of online, skill-building simulations that prepare faculty, staff, and student veterans to recognize and address challenges that student veterans may face as they transition from military to college life. These challenges include social isolation, cultural disparities, academic difficulties, and mental-health issues such as post-deployment stress disorder (PTSD), depression, thoughts of suicide, and traumatic brain injury (TBI). Demos of these simulations are available at http://www.kognito.com/products/voc/.
"It is critical that institutions of higher education create conditions for student veterans to thrive both academically and socially as they transition back to civilian life," said SVA's Executive Director Michael Dakduk. "The Veterans on Campus programs provide effective training for faculty, staff, and student veteran peers in assisting student veterans during this adjustment period."
In each Veterans on Campus simulation, users enter a virtual practice environment and engage in a series of challenging role-play conversations with emotionally responsive and fully animated virtual students who realistically portray student veterans struggling with the adjustment to college life. The user's task in each conversation is to help the virtual student through the challenges he or she faces and build the student's motivation to actively resolve those challenges.
The online simulations were built using Kognito's proprietary "Human Interaction Game Engine™" which is based on research in neuroscience, virtual humans, social cognition, and adult learning theory. The simulations are available 24/7 online and include outreach materials and databases of local and national resources.
"By providing users with practice speaking with virtual student veterans, the Veterans on Campus trainings build the skills and confidence individuals need to engage in similar conversations in real life," said Kognito's Co-Founder and CEO Ron Goldman. "Engaging in these very challenging conversations in real life is at the core of truly overcoming stigma and supporting veterans."
A recent longitudinal study at 11 colleges found that faculty and staff that completed the Veterans on Campus training reported statistically significant increases in military cultural competence and gatekeeper skills (i.e., the skills to identify, approach, and refer a veteran exhibiting signs of psychological distress) both immediately after the training and at four-, six-, and 12-week follow-up points. In addition, 50% of study participants reported an increase in the number of student veterans they approached to discuss their concerns and connect with on- and off-campus support services. The complete study results can be found at http://www.kognito.com/products/voc/research/.
About Student Veterans of America
SVA is a 501(c)(3) non-profit coalition of over 850 student veteran organizations on college campuses globally. SVA's mission is to provide military veterans with the resources, support, and advocacy needed to succeed in higher education and following graduation.
About Kognito
Kognito Interactive is a developer of role-playing training simulations that address national challenges in the areas of health and behavioral health. In its online and mobile simulations, users learn effective tactics for managing challenging conversations aimed at changing health behaviors by practicing speaking with intelligent, fully animated, and emotionally responsive virtual humans. Our learning solutions have been adopted by 450 hospitals, universities, state and federal agencies to train over 1.5 million people in the US, Canada, UK, and Australia. Learn more and view demos at http://www.kognito.com.