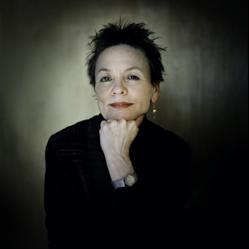 "As a lifelong exemplar of artistic curiosity, Ms. Anderson is particularly well suited to address the 1,100 degree candidates in SVA's 2012 graduation class," said SVA President David Rhodes.
New York (PRWEB) May 02, 2012
School of Visual Arts has announced that acclaimed multimedia artist Laurie Anderson has accepted an invitation to speak at this year's commencement exercises. The event takes place on Thursday, May 10, 2012, 1pm, at Radio City Music Hall, 1260 Avenue of the Americas, New York City. The ceremony is a ticketed event and open to students and invited guests only; a live webcast will be streamed at http://www.sva.edu/student-life/commencement/commencement-2012-webcast.
"As a lifelong exemplar of artistic curiosity, Ms. Anderson is particularly well suited to address the 1,100 degree candidates in SVA's 2012 graduation class," said SVA President David Rhodes. Ms. Anderson was nominated by MFA Art Practice Chair David Ross and will also receive an honorary degree at the ceremony.
Laurie Anderson has been an arch observer of the American scene for more than four decades through her work as a visual artist, composer, poet, photographer, filmmaker, vocalist and instrumentalist. Widely recognized as a pioneer in the use of technology in the arts, Ms. Anderson has toured the United States and internationally with shows ranging from simple spoken word performances to elaborate multimedia events. In 2002, she was appointed the first artist-in-residence for NASA, an experience that culminated in her 2004 touring solo performance, The End of the Moon. In 2008, she completed a two-year worldwide tour of her performance piece Homeland, which was released to critical acclaim as an album on Nonesuch Records in 2010.
Ms. Anderson's recording career was launched in 1980 with O Superman, a haunting single that rose to No. 2 on the British pop charts. Her album releases include Big Science (1982), Mister Heartbreak (1984), United States Live (1984), Strange Angels (1989), Bright Red (1994), and the soundtrack to her feature film Home of the Brave (1986). As a composer, Ms. Anderson has contributed music to films by Wim Wenders and Jonathan Demme; dance pieces by Trisha Brown, Molissa Fenley and Bill T. Jones; and a theatrical production by Robert LePage. Ms. Anderson's visual work has been presented in major museums throughout the United States and Europe and is in the permanent collection of the Museum of Modern Art, New York.
Laurie Anderson will join a distinguished group of leaders in the arts, humanities and public service who have spoken at SVA's commencement exercises in past years, including playwrights Edward Albee and Tony Kushner, historian Robert A. Caro, Governor Mario Cuomo, biologist Dr. Gerald Edelman, opera singer Ronan Tynan and actor B.D. Wong as well as New York Times columnists Maureen Dowd, Nicholas Kristof and Frank Rich.
School of Visual Arts is a comprehensive college of art and design offering the degree of Bachelor of Fine Arts in advertising; animation; cartooning; computer art, computer animation and visual effects; film and video; fine arts; graphic design; illustration; interior design; photography; and visual and critical studies; the degree of Master of Fine Arts in art criticism and writing; art practice; computer art; design; design criticism; design for social innovation; fine arts; illustration as visual essay; interaction design; photography, video and related media; products of design; social documentary film; and visual narrative (beginning summer 2013); the degree of Master of Professional Studies in art therapy; branding; digital photography; fashion photography; and live action short film; the degree of Master of Arts in critical theory and the arts; and the degree of Master of Arts in Teaching in art education.
With over 6,000 students and 1,100 faculty members, SVA represents one of the largest and most influential creative communities in the world. SVA counts some of the world's most acclaimed artists among its more than 27,000 alumni. Many thousands of them constitute the core of the cultural capital of the world, New York City, while thousands of others can be found throughout the U.S. and in over thirty countries. Some notable alumni include: fine artists Inka Essenhigh, Rodney Alan Greenblat, Keith Haring, Suzanne McClelland, Elizabeth Peyton, Alexis Rockman, Kenny Scharf, Gary Simmons and Sarah Sze; photographers Guy Aroch, Renée Cox, Justine Kurland and Lorna Simpson. Others include Paul Davis, principal, Paul Davis Studio; Sal DeVito, creative director, DeVito/Verdi; Pete Hamill, author and journalist; Patrick McDonnell, creator, Mutts comic strip; Bill Plympton, Academy-Award nominee, Guard Dog; Bryan Singer, director, X-Men, Usual Suspects; Carlos Saldanha, director, Ice Age: The Meltdown and Rio; Harris Savides, cinematographer, Zodiac and Milk.
School of Visual Arts (SVA) in New York City is an established leader and innovator in the education of artists. From its inception in 1947, the faculty has been comprised of professionals working in the arts and art-related fields. SVA provides an environment that nurtures creativity, inventiveness and experimentation, enabling students to develop a strong sense of identity and a clear direction of purpose.