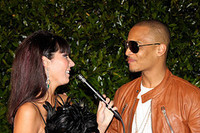 For people who use gadgets, that sounds like something superb. That sounds like a must have.
New York, NY (PRWEB) June 30, 2010
SWAGG℠, an official sponsor of the Atlantic Records BET Awards post-show dinner, took a spin on a traditionally social event and put the social in social media. The Social Media Rockstar and host of the enormously popular twitter show #journchat, Sarah Evans, and celebrated urban celebrity blogger, Necole Bitchie, showed up on the red carpet to interview attendees and live tweet the event. Using the hashtag #swaggLA proved a new kind of celebrity reporting by sharing tweets and audio interviews with their significant online followers.
Sarah and Necole queried celebrities on their cell phone of choice and their favorite apps as the stars and celebrities walked the red carpet in front of Cecconi's, a trendy restaurant in West Hollywood. Interviews with celebrities such as T.I., Jermaine Dupri, Dondria, Bryan Michael Cox, Janelle Monae, Trey Songz, Eric Benet, Kandi Burruss, Tank, Terrence J., and Lyfe Jennings revealed a clear cut favorite in smart phones, a tie between Blackberry and Apple iPhone.
Celebrities seemed intrigued by the SWAGG℠ application, due to launch in Holiday 2010. Record producer, rapper, and songwriter Jermaine Dupri stated, "This will be big for Christmas. I will definitely be using it." "I don't use any apps," stated recording artist, film and music producer T.I., "I'm not an app guy. I call. I text. I e-mail. That's about it." When told the benefits of the SWAGG℠ app, T.I. declared, "For people who use gadgets, that sounds like something superb. That sounds like a must have."
To view video testimonials from the event, visit SwaggMobile on YouTube. Also visit Swagg.com and Swagg Mobile on Twitter for exclusive updates and news on the application. SWAGG℠ will launch Holiday 2010.
About SWAGG℠:
SWAGG℠ enables smart, efficient and rewarding transactions on the go. SWAGG℠ allows users to purchase, share and exchange gift cards, receive and redeem offers, view loyalty card points or balances, share content and more - straight from the convenience of a mobile device. SWAGGSM will be available in time for the 2010 holiday season.
For more information on on SWAGG℠, visit swagg.com.
Twitter: http://www.twitter.com/swaggmobile
Facebook: http://facebook.swagg.com
YouTube: http://www.youtube.com/swaggmobile
Flickr: http://www.flickr.com/photos/swaggmobile
###