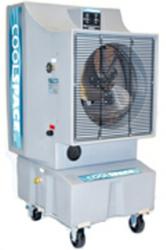 With free shipping , now is clearly the time to order Swamp Coolers
Boston, MA (PRWEB) December 24, 2011
Swamp Coolers are used in relatively dry environments for efficient and cost effective cooling. A Plus Warehouse wants to remind customers that swamp coolers and evaporative coolers are used not only in the summertime. There are plenty of places that are hot and dry in any season. As an added benefit, A Plus Warehouse ships to international customers. When it is cooler in the Northern Hemisphere, it is necessarily warmer in the Southern Hemisphere. To promote the purchase of swamp coolers this winter season, A Plus Warehouse is offering free dock to dock shipping on all Cool Space swamp coolers and evaporative coolers.
Industrial customers need quality. Cool Space swamp coolers provide the thickest cooling pads in the industry along with the best warranty. According to Norm Schneiderman, HVAC product manager, "With the thicker housing Cool Space offers, customers experience the most quiet swamp cooler experience available"
Swamp coolers are different than air conditioners in that air conditioners work on the thermodynamic principle of gas compression. Swamp coolers work on the principal of exothermic reactions. Quite simply, the evaporation of water takes energy. Energy is heat. A swamp cooler blows a fine mist into the air, and the evaporation of that mist cools the air down. There are clearly limitations of swamp coolers.
First of all, customers do not want a fine mist blowing into any sensitive electronics! Although A Plus Warehouse wants to move product, using swamp coolers in a computer server room is not a great idea. Secondly, when there is high relative humidity , water vapor does not evaporate well. Very humid days are called saturated because the air is saturated with water and can't hold any more. Third , swamp coolers should always have clear access to the outdoors , always pulling in fresh air.
The best applications for swamp coolers include warehouses, outdoor parties, shop floors, concerts, and athletic fields. A desert is the best environment as deserts are very hot and very dry. In this environment, water evaporates easily maximizing the value of the cooler. A Plus Warehouse is pleased to offer the Cool Space swamp cooler line. These are the units to use for industrial use, as opposed to the smaller units used for houses and consumer need.
About A Plus Warehouse:
A Plus Warehouse is a nationwide distributor offering Swamp Coolers and other great items such as storage cabinets. A trained sales staff stands ready to help.
# # #