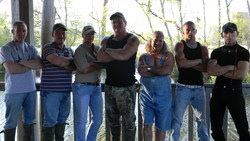 NO GUTS. NO GATORS
Baton Rouge, LA (PRWEB) March 29, 2011
Welcome back to the Swamp! Base Camp Management's client cast of Swamp People Season Two have been announced: Troy Landry, Jacob Landry, Bruce Mitchell, Terral Evans, R. J. and Jay Paul Molinere are ready for the challenges of the swamps of Louisiana, America's Last Frontier. Season Two will premiere on Thursday, March 31, 9PM ET/PT.
SWAMP PEOPLE is the story of the American spirit, of the lost art of doing things the way "the old people" did it and of the unyielding desire to preserve a dying way of life from the encroaching modern world.
Deep in southern Louisiana there are nearly 1 million acres of flooded forest, marshland and bayous unlike anyplace else in the United States. It's a hidden world, a place where nature still rules – one of the least known territories in the United States. But a hardy breed of "Swamp People" knows the secrets of this dangerous mysterious territory. Most are Cajun descendants of French-speaking settlers who came from Canada in the 1700s – and their way of life has been fundamentally the same for generations. Hunting, especially alligator hunting, remains a major source of their livelihood.
SWAMP PEOPLE explores and celebrates a unique culture far removed from the mainstream of contemporary America. This is a united community that fends for themselves and makes a living any way they can in an unpredictable environment. The families of SWAMP PEOPLE battle Father Time, Mother Nature and the challenges of life in and around the murky waters of the Atchafalaya Swamp. They are America's forgotten pioneers.
Season Two of SWAMP PEOPLE follows these intrepid hunters and family men an women as they head out in pursuit of these most powerful beasts during the 30-day alligator-hunting season, regulated by the state of Louisiana.
SWAMP PEOPLE SEASON 2 (Cast represented by Base Camp Management):

Troy Landry - Troy is the quintessential Cajun swamp man with the quintessential Cajun accent – he makes his living as a hunter and fisherman. When he's not working, he is hanging out in his houseboat hosting cookouts and parties for his families and friends.
Jacob Landry - works along side is father, Troy, throughout the year, hunting, fishing or just having fun. Jacob and his family work hard and play together. This year Jacob welcomes the next generation of Landry men into the clan, his son.
Bruce Mitchell - in addition to raising reptiles, Bruce hunts and processes wild gators, selling the meat to various customers. His goal is to waste nothing and remain self-sufficient at all times. Bruce and his dog Tyler, hunt alligators together.
R.J. Molinere Jr. - is a powerful man, in body and in spirit – and a champion arm wrestler! He is a Native American and an elder member of the United Houma Nation. Since R. J. was old enough to pole a boat through the marsh, he has been making a living off the land—the same way his ancestors have done for thousands of years.
Jay Paul Molinere – is the son of R.J. Molinere and a champion in his own right. Jay Paul is an MMA and Golden Glove Champion fighter. Whether Jay Paul is fighting in the ring, going to college, raising his son or working along side his dad, Jay Paul is his own man, his father's best friend, always honoring his heritage and family traditions.
Terral Evans - stands 6'4" and weighs in at around 240 pounds. Terral is a Louisiana man in every way. He is a man who loves the Honey Island Swamp he calls home and reaps its bounty every day. Terral approaches life in the swamp the same way his father and grandfather taught him as a young child.
The Season 1 series premiere of SWAMP PEOPLE set a record as History's best-ever original series launch in all key demos with 4.2 million Total Viewers. As well, SWAMP PEOPLE was the #2 new non-fiction series in 2010 on cable between A25-54 and A18-49, behind only History's very own American Pickers. Overall Season 1 of SWAMP PEOPLE averaged 3.1 million total viewers; 1.7 million Adults 25-54; 1.6 million Adults 18-49; 1.1 million Men 25-54: 1.0 million Men 18-49 M18-49; and 3.1 million total viewers.
SWAMP PEOPLE is produced by Original Media for HISTORY. Executive Producers are Jay Peterson and Charlie Corwin and Brian Catalina is co-Executive Producer. Executive Producers for HISTORY are David McKillop and Mary Donahue.
Management Contact:
Pete Elkins pete(at)bcmanage(dot)com
(o) 225-216-8340 or (c) 225-955-1037
Base Camp Management
Creative Media Solutions
634 Connell's Park Lane
Baton Rouge, Louisiana 70806
http://www.lacms.com
# # #