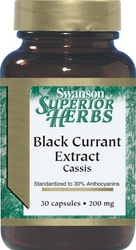 It is possible that the use of Black Currant Extract as a dietary supplement not only can provide general health benefits, but also specific benefits in the areas of cognitive, neurological, cardiovascular, eye and joint health
Fargo, ND (Vocus) June 9, 2010
For decades, the bilberry has been the go-to herb for eye health and vision support. But a new herb, black currant extract, has been shown to contain more antioxidants and anthocyanins than bilberry. The dark, black berries have high levels of not only anthocyanins but other polyphenolics and vitamin C. Black Currant Extract is now offered by Swanson Health Products in their Swanson Superior Herbs line.
The Crop and Food Research Institute (NZ government research centre) found that New Zealand black currants have higher contents of anthocyanin and other phytochemicals than black currants in other countries. Anthocyanins are the deep pigments that give berries their rich, dark colors. Many of the antioxidant characteristics of the berries can be attributed to the anthocyanin content.
"It is possible that the use of Black Currant Extract as a dietary supplement not only can provide general health benefits, but also specific benefits in the areas of cognitive, neurological, cardiovascular, eye and joint health," Dr. Rudi Moerck explains. "Supplements containing black currant extract provide additional dark colored berries which are considered important for general health."
Swanson Health Products is an industry leader in bringing vitamins direct to consumers at the lowest prices possible. Swanson Health Products, located in Fargo, ND, offers the highest quality vitamins, supplements and natural health care products and is Good Manufacturing Practices certified. Swanson Health Products goes a step beyond its competitors by offering powerful guarantees. All products are backed by a 100% Satisfaction, Money-Back Guarantee and Double the Difference Lowest Price Guarantee. For more information, please visit swansonvitamins.com.
Contact Information:
Tara Kessler
Phone: 701-356-2807
Website: http://www.swansonvitamins.com
###