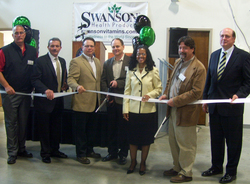 A distribution center located in the Mid-Atlantic States expedites shipments to our customers in the eastern U.S.
Fargo, ND (Vocus) May 14, 2010
Swanson Health Products (SHP) is proud to announce an operations expansion located in Harrisburg, the state capital of Pennsylvania. Swanson Health Products' East Coast Distribution Center (ECDC) will serve as a fulfillment center established to help SHP do what it does best: serve its customers. The location of this facility was chosen to eliminate one to two days of transit time on orders shipped to east coast customers.
The ECDC began operations on May 3, 2010, followed by a ribbon cutting ceremony on May 11. The ceremony included guest speaker, David Black, from the Harrisburg Chamber of Commerce, as well as remarks from the Mayor of Harrisburg, Linda D. Thompson. A total of 70 guests including the Swanson Health Products' executive team, employees and local dignitaries celebrated the ribbon cutting ceremony. On hand to cut the ceremonial ribbon (pictured left to right): Ron Zeager ,SHP Operations Manager; Tim Berard, Swatara Township Commissioner; Jeff Haste, Dauphin County Commissioner; Terry Kraft, SHP Director of Operations; Linda D. Thompson, Mayor of Harrisburg; Doug Anderson , Chief Financial Officer of SHP; and David Black, CEO and President of Harrisburg Regional Chamber & CREDC.
"We are proud to commemorate the successful completion of our East Coast Distribution Center in Harrisburg, PA," said Terry Kraft, Director of Operations for Swanson Health Products. "We value our customers and are constantly trying to improve the customer experience. A distribution center located in the Mid-Atlantic States expedites shipments to our customers in the eastern U.S."
Swanson Health Products is an industry leader in bringing vitamins direct to consumers at the lowest prices possible. Swanson Health Products, located in Fargo, ND, offers the highest quality vitamins, supplements and natural health care products and is Good Manufacturing Practices certified. Swanson Health Products goes a step beyond its competitors by offering powerful guarantees. All products are backed by a 100% Satisfaction, Money-Back Guarantee and Double the Difference Lowest Price Guarantee. For more information, please visit swansonvitamins.com.
Contact Information:
Tara Kessler
Phone: 701-356-2807
Website: http://www.swansonvitamins.com
###