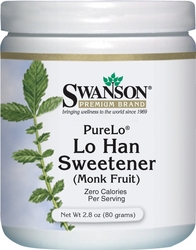 Swanson Health Products introduces PureLo® Lo Han Sweetener; a natural, calorie-free alternative to artificial sweeteners.
Fargo, ND (Vocus) April 29, 2010
Looking for an all-natural alternative to artificial sweeteners without the bitterness of stevia or the calories of honey? Swanson Health Products' Swanson Premium PureLo® Lo Han Sweetener is a natural, calorie-free sweetener made from the concentrated extract from Lo Han, a traditional Chinese fruit also known as Monk Fruit.
Monk Fruit is grown exclusively in the southern mountains of China and has been used for centuries as a sweetener and as a traditional Chinese medicine. Now, it has found its way out of the Asian markets and into the mainstream as a calorie-free way to sweeten. It's perfect for coffee and tea and can even be used for cooking and baking. Because Lo Han can be up to 200 times sweeter than sugar, Swanson Health Products has tempered the natural sweetness by blending PureLo® with natural inulin so it's ready to use in recipes or at the table.
Swanson Health Products is an industry leader in bringing vitamins direct to consumers at the lowest prices possible. Swanson Health Products, located in Fargo, ND, offers the highest quality vitamins, supplements and natural health care products and is Good Manufacturing Practices certified. Swanson Health Products goes a step beyond its competitors by offering powerful guarantees. All products are backed by a 100% Satisfaction, Money-Back Guarantee and Double the Difference Lowest Price Guarantee. For more information, please visit swansonvitamins.com.
Contact Information:
Tara Kessler
Phone: 701-356-2807
Website: http://www.swansonvitamins.com
# # #