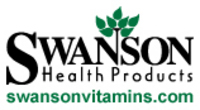 Fargo, ND (PRWEB) December 11, 2008
As the days get shorter and the temps drop lower and lower, flu shots, wellness and staying healthy are on the minds of everyone. This season Swanson Vitamins reminds people of the top 15 natural products they offer that help promote immune system health.
1. Royal Jelly: An excellent high-energy nutrition source for overall well-being and natural immune system support.
2. Probiotics 4: Helps keep the intestinal tract healthy and the immune system strong.
3. Green Tea: Green tea has been brewed for centuries throughout Asia, where it's revered as a health-promoting tonic. Modern science has discovered the amazing antioxidant power in green tea leaves. A terrific free-radical fighter for whole body protection.
4. Grapeseed Extract: Grape seeds are packed with natural compounds known as polyphenols, considered among the most potent free-radical fighters known.
5. Veggies4Life: Loaded with antioxidants, vitamins, minerals and fiber to ensure the daily recommended amount of veggies is received every day.
6. Fruit4Life: Loaded with extracts of 13 healthy fruits in one tablet, Fruit4Life is a source of vitamins and minerals, plus valuable fibers and phytonutrients that play important roles in maintaining good health.
7. BetaRight: A natural polysaccharide complex derived from yeast cells, BetaRight provides uniquely effective nutritive support to enhance immune responses at the cellular level.
8. Korean Ginseng: Throughout much of Asia ginseng has been used for centuries as a tonic, promoting total-body wellness. Today, it is known for its amazing stress-fighting, immune-boosting, sexual health and mental performance enhancing benefits. Also beneficial for promoting cardiovascular system health, each convenient capsule of our Swanson Premium Brand Korean Ginseng delivers 500 mg of ginseng root.
9. CoQ10: Coenzyme Q10 (CoQ10), also known as ubiquinone, is absolutely vital to good health. It is integrally involved in the production of adenosine triphosphate (ATP), the primary source of energy at the cellular level.
10. PureWay-C: A scientifically proven free-radical fighter that benefits the nervous system, skin and immune health.
11. Hawaiian Noni: Hawaiians have included the noni fruit in their diets for centuries. Now they're sharing this nutritious fruit with the world in the form of a concentrated tonic for general good health.
12. Zinc Lozenges: Supercharge the body's natural defenses with fast-acting Zinc & C Lozenges. The antioxidant capabilities of zinc and vitamin C make them excellent teammates for immune system support. These great-tasting, naturally lemon- and orange-flavored lozenges combine 100 mg of vitamin C with three high-bioavailability forms of zinc for rapid-absorption immune-boosting nutrition.
13. Zinc (Gluconate): Reinforce the body's natural defenses with the trace mineral nutrition of zinc. As a crucial component of one of the body's primary antioxidant enzymes, zinc provides valuable nutritional support for the immune system, prostate, eyes, liver and more.
14. Umcka Cold + Flu FastActives Berry: This homeopathic remedy may shorten the duration and reduce the severity of symptoms associated with the common cold and throat/sinus/ bronchial infections, and temporarily relieves flu symptoms, such as chills/fever; congestion/ stuffy nose; cough; headache; hoarseness; minor aches and pains; sneezing/runny nose; and sore throat.
15. SambuGuard Herbal Formula: It's specially formulated with four well-known immune system enhancers: elder flowers, elderberries, echinacea purpurea and vitamin C. Each of these ingredients has been selected because of the specific function it contributes to this formula, and for its ability to work with the others synergistically for maximum results.
Swanson Vitamins is an industry leader in bringing vitamins direct to consumers at the lowest price possible. Swanson Vitamins, located in Fargo, ND, offers the highest quality vitamins, supplements and natural health care products and is GMP certified. Swanson Vitamins goes a step beyond its competitors by offering powerful guarantees. All products are backed by a 100% Satisfaction, Money-Back Guarantee and Double the Difference Lowest Price Guarantee. For more information, please visit http://www.swansonvitamins.com.
# # #