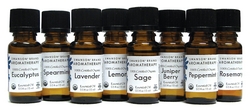 Swanson Health Products introduces a new line of certified organic essential oils in the Swanson® Brand Aromatherapy 100% Certified Organic Essential Oils
Fargo, ND (Vocus) July 2, 2010
Aromatherapy isn't new to the field of natural health. Ancient Egyptians were the first practitioners of aromatherapy using various essential oils for multiple reasons. From the Greeks to the Romans to modern day, essential oils have been part of a holistic approach to health. Swanson Health Products introduces a new line of certified organic essential oils in the Swanson® Brand Aromatherapy 100% Certified Organic Essential Oils.
There are a variety of methods used to extract the essential oils from plants and herbs. The Swanson Aromatherapy Certified Organic Essential Oils use two primary processes: steam distillation and the cold-pressed approach. Flowering plants and herbs are steam distilled; fruits are cold-pressed from the outer parts of the fresh peel.
Fragrances available in the pure, certified organic essential oils line from Swanson Health Products:
Eucalyptus (steam distilled): Characterized by its camphorous, penetrating aroma, eucalyptus oil adds a refreshing fragrance and is said to purify the air.
Juniper Berry (steam distilled): The woody/balsamic aroma of juniper berry oil invokes images of fresh pine forests.
Lavender (steam distilled): The most popular aromatherapy oil, lavender is known for its soothing, floral scent.
Lemon (cold-pressed): Pure Italian lemon oil has a fruity, sweet and crisp fragrance.
Peppermint (steam distilled): Its fresh aroma makes it a popular addition to skin care formulas, household products and diffusion blends.
Rosemary (steam distilled): Fresh and herbaceous with a bit of woody balance, rosemary is considered by aromatherapists to be a purifying herbal essence suitable for massage applications
Sage (steam distilled): Among the most pungent essential oils with a warm, spicy and camphorous aroma.
Spearmint (steam distilled): Softer and sweeter aroma than its counterpart, peppermint, it is valued as a refreshing fragrance.
Swanson® Brand Aromatherapy 100% Certified Organic Essential Oils can be used in a plethora of ways including as air fresheners, added to a bath, added to compresses, in facial creams and body lotions, in hair care products or during a massage. Use Swanson Aromatherapy to open your senses and discover the holistic benefits pure aromatic oils can bring.
Swanson Health Products is an industry leader in bringing vitamins direct to consumers at the lowest prices possible. Swanson Health Products, located in Fargo, ND, offers the highest quality vitamins, supplements and natural health care products and is Good Manufacturing Practices certified. Swanson Health Products goes a step beyond its competitors by offering powerful guarantees. All products are backed by a 100% Satisfaction, Money-Back Guarantee and Double the Difference Lowest Price Guarantee. For more information, please visit swansonvitamins.com.
Contact Information:
Tara Kessler
Phone: 701-356-2807
Website: http://www.swansonvitamins.com
###