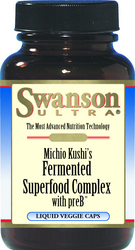 I developed preB as a complete nutritional complex composed entirely of fermented foods. My unique, all-natural fermented food formula was created for those who are looking to benefit from the Kushi Macrobiotic principles without learning complex theories
Fargo, ND (Vocus) November 2, 2010
Swanson Health Products has been chosen as one of the first health companies in America to introduce Michio Kushi's new Fermented Superfood Complex with preB® to the United States. Macrobiotics is an approach to physical and emotional wellness through the consumption of foods that are nutritionally energetically balanced. The diet traditionally focuses on foods that are high in fiber and low in fat, a plethora of vegetables and grains, vegetable proteins and limited meat and dairy.
Michio Kushi, leader of the macrobiotic movement in the United States, developed this new preB fermented superfood supplement with nutrition from 55 fermented whole foods to help everyone enjoy a macrobiotic lifestyle. In general, macrobiotics emphasizes whole cereals, grains, legumes, vegetables, seaweed, fermented foods and fruits combined into meals according to the principle of balance (yin and yang). While a macrobiotic diet can be difficult to maintain due to the use of specialty organic foods that can be hard to find throughout the year, this new Swanson Ultra formulation delivers macrobiotic nutrients in an easy-to-take supplement.
"I developed preB as a complete nutritional complex composed entirely of fermented foods," explains Mr. Kushi. "My unique, all-natural fermented food formula was created for those who are looking to benefit from the Kushi Macrobiotic principles without learning complex theories."
Swanson Health Products is an industry leader in bringing vitamins direct to consumers at the lowest prices possible. Swanson Health Products, headquartered in Fargo, ND, offers the highest quality vitamins, supplements and natural health care products and is Good Manufacturing Practices certified. Swanson Health Products goes a step beyond its competitors by offering powerful guarantees. All products are backed by a 100% Satisfaction, Money-Back Guarantee and Double the Difference Lowest Price Guarantee. For more information, please visit swansonvitamins.com.
Contact Information:
Tara Kessler
Phone: 701-356-2807
Website: http://www.swansonvitamins.com
E-mail: pr(at)swansonhealth(dot)com
###