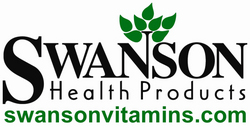 Fargo, ND (Vocus) July 15, 2009
ConsumerLab.com's most recent test of joint health supplements was released last week. The test looked at 3 ingredients--Glucosamine, Chondroitin and MSM, and was done to determine if the products contained the correct amounts of these ingredients as stated on their labels. They were also tested for lead contamination and the products with MSM were additionally tested for DMSO contamination. In order to be considered approved, the products had to pass on all criteria.
Swanson Vitamins submitted their Premium Glucosamine, Chondroitin and MSM and Ultra Timed-Release Glucosamine and Chondroitin and both products passed. The Premium Glucosamine, Chondroitin and MSM can be purchased for only $10.99 for 120 tablets and the Ultra Timed-Release Glucosamine and Chondroitin sells for only $13.49 for a 2 months supply. By signing up to receive weekly emails, customers earn extra discounts on products including reduced shipping, percent off discounts and more.
Swanson Vitamins was founded 40 years ago with a commitment to three fundamental principles: quality, value and customer service. The same holds true today, each product starts with the freshest ingredients and all ingredients are tested at various stages of the production process to verify purity and potency. On top of that, they are able to offer their products to the consumer at deep discounts.
ConsumerLab.com is a provider of consumer information and independent evaluations of products that affect health and nutrition.
Swanson Vitamins is an industry leader in bringing vitamins direct to consumers at the lowest price possible. Swanson Vitamins, located in Fargo, ND, offers the highest quality vitamins, supplements and natural health care products and is GMP certified. Swanson Vitamins goes a step beyond its competitors by offering powerful guarantees. All products are backed by a 100% Satisfaction, Money-Back Guarantee and Double the Difference Lowest Price Guarantee. For more information, please visit Swanson Vitamins.
Contact Information:
Theresa Hagen
Phone: 701-356-2807
Fax: 701-356-2780
Website: http://www.swansonvitamins.com
###