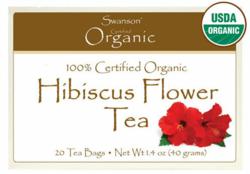 Fargo, ND (PRWEB) February 14, 2012
The popular herb, hibiscus, is now available in three forms from Swanson Health Products, an industry leader in quality, low-priced vitamins and natural health products. From organic tea to standardized extract supplements, this floral herb is a great addition to a healthy diet. Three new ways to harness the power of hibiscus:

Swanson Organic Hibiscus Flower Tea is delicious and can be brewed hot or cold. The tea bags are the staple-free, non-bleached and made from recycled materials. This 100% USDA Organic tea has a fruity, tangy flavor, quickly becoming a Swanson customer favorite.
For those who want the benefits of hibiscus but do not enjoy tea, Swanson Premium Full Spectrum Hibiscus Flower capsule supplement features a pure, whole powder.
Swanson Superior Herbs Hibiscus Extract capsules feature UTIRose™ standardized extract. This vegetarian formula is standardized to 50% total phenolic compounds.
Swanson Health Products is an industry leader in bringing vitamins directly to consumers at the lowest prices possible. Swanson Health Products, headquartered in Fargo, ND, offers the highest quality vitamins, supplements and natural health care products and is Good Manufacturing Practices certified. Swanson Health Products goes a step beyond its competitors by offering powerful guarantees. All products are backed by a 100% Satisfaction, Money-Back Guarantee. For more information, please visit http://www.swansonvitamins.com.
# # #