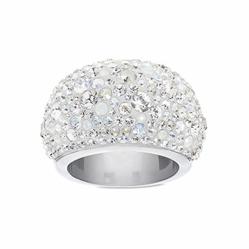 London (PRWEB UK) 22 May 2013
Dressing in white from head to toe is not just for the brides. Lately, this crisp look can be spotted from high street to nightclubs and Swarovski just launched the accessories to go with it.
Starting in shiny white perfection, we highly recommend a pair of pearl earrings. Nothing speaks clean quite as clearly as pearls. In fact, no girl should be without them! The Swarovski Tricia Pierced Earrings set a perfect example with the added benefit that white pearls and clear crystal will easily coordinate with any look.
For some instant glam, add the white version of the Chic Mini Ring to your wardrobe. The Swarovski-exclusive Pointiage® setting of sparkling crystal chatons turns simple white into a true eye-catcher. Dress up the boyfriend shirt and turn the look into a fest of femininity.
Stack the white Slake Bracelet with the white Octea Classica Watch for a match made in heaven and dress the neckline with a Nude pearl all-around or a double strand Triumphal Necklace. These are of course but a few suggestions from the vast collection of bright white Swarovski jewellery. Find more ideas and suggestions in the Swarovski online shop.
About Swarovski:
In 1895, Daniel Swarovski, a Bohemian inventor and visionary, moved to the village of Wattens, Tyrol in Austria, with his newly-invented machine for cutting and polishing crystal jewellery stones. From this beginning that revolutionized the fashion world, Swarovski has grown to be the world's leading producer of precision-cut crystal for fashion, jewellery and more recently lighting, architecture and interiors. Today, the company, still family-owned and run by 4th and 5th generation family members, has a global reach with some 23,000 employees, a presence in over 120 countries and a turnover in 2010 of 2.06 billion Euros. Swarovski comprises two major businesses, one producing and selling loose elements to the industry and the other creating design-driven finished products. Swarovski crystals have become an essential ingredient of international design. Since 1965 the company has also catered to the fine jewellery industry with precision-cut genuine and created gemstones. Showing the creativity that lies at the heart of the company, Swarovski's own brand lines of accessories, jewellery and home décor items are sold through more than 1,900 retail outlets worldwide. The Swarovski Crystal Society has close to 325,000 members across the world, keen collectors of the celebrated crystal figurines. And in Wattens, Swarovski Kristallwelten, the multi-media crystal museum, was opened in 1995 as a celebration of Swarovski's universe of innovation and inspiration.