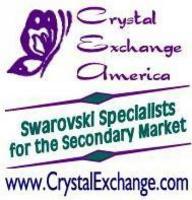 Middletown, OH (Vocus) October 16, 2010
Crystal Exchange America is excited about the expansion of Swarovski crystal listings and bargain prices they have in their online store. In the past month, the number of products in their virtual inventory has increased and prices are at the most appealing level ever. The vast inventory means that there is a large variety of product offerings. Furthermore, Crystal Exchange America is seeing the most competitive prices in history of their 14 years presence on the internet! This is terrific news for all the Swarovski crystal fanatics eager to purchase retired Swarovski and hard-to-find Swarovski collectibles.
However, at the same time, this good news comes with some very mixed feelings for the collecting audience. Just like people turning their gold and jewelry into cash, Swarovski collectors are listing and selling their crystal because they can use some extra money. Not surprising to anyone, the economy remains slow, and even the unexpected are feeling the pinch leading to a difficult choice to sell their Swarovski. The more Swarovski figurines that are listed in the online store, the more competitive the prices become. When sellers are truly motivated to sell, they price their crystal to be the least expensive item in their store. When the next person comes along, in a comparable financial situation, they do the same thing….price their Swarovski to be lowest. It doesn't take long to figure out how and why the prices on retired Swarovski are declining so quickly.
Swarovski collectors who do not wish to sell their crystal are feeling the effects of surge to sell Swarovski collections. The overall perceived value of their Swarovski collection is weakening. Will Swarovski values ever go back up? If so, what is the time frame? This is a difficult question that no one, not even the Swarovski experts at Crystal Exchange America, can truthfully answer.
Today, Crystal Exchange America has over 5000 Swarovski figurines in their store inventory. The majority of the Swarovski crystal in their online store is discontinued, retired and limited edition Swarovski. Most all items listed on their site display standard stock photos and include particulars from the Swarovski owners/sellers regarding the inclusion or exclusion of Swarovski certificates / generic product booklets, original Swarovski boxes / packaging, identification labels on Swarovski cylinders / boxes, and Swarovski logo on the crystal. Consumers purchasing Swarovski figurines expect reasonable prices, and quite often, complete specifics of the Swarovski crystal item they plan to buy.
Swarovski collectors interested in using the Crystal Exchange America services can have their crystal collection included on the web site. Collection owners simply use a secure form on the site to safely and securely submit the article(s) to be integrated on a future update. Motivated sellers may also inquire about having their crystal featured in the Swarovski Sale page of the site, which features those special pieces with the best Swarovski discount possible.
For the avid Swarovski collector looking for more than the crystal figurines, Crystal Exchange America also sells the most popular books on Swarovski Crystal. Two of the collectors' favorite Swarovski price guides are written and published by Swarovski collectors: Warner's Blue Ribbon Books on Swarovski.
Crystal Exchange America is not affiliated with, endorsed, or sponsored by Swarovski. Crystal Exchange America is an independent company providing a specialist service to collectors of Swarovski Crystal and Swarovski Silver Crystal.
###