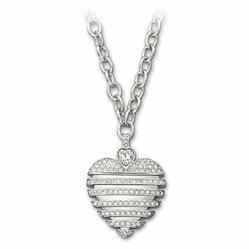 London, UK (PRWEB UK) 4 February 2013
Valentine's Day adds a welcome highlight to the otherwise dull February. Swarovski celebrates Valentine's Day with a number of special heart-themed items which feature signature sparkling crystal accents and wonderfully eye-catching colours.
The Sensible Necklace takes its place as the must-have item for Valentine's Day 2013. In line with the latest fashion trends, the heart is revisited here with minimalism in mind. Both expressive and delicate, it takes shape through a raised and cut-out design in straight lines, making it a brilliant piece for a modern Valentine.
Adding some feminine sparkle and colour to life, the Heart Charm Set, Limited Online Edition consists of two charms and a charm bracelet. Convey your feelings with this exclusive piece: Let the One Charm and the Love Script Charm adorn a loved one. The charms dangle from the fashionable pink Heart Cord Charm Bracelet. Visit the website to view all the sparkling Swarovski surprises which help make Valentine's Day truly enchanting.
In 1895, Daniel Swarovski, a Bohemian inventor and visionary, moved to the village of Wattens, Tyrol in Austria, with his newly-invented machine for cutting and polishing crystal jewellery stones. From this beginning that revolutionised the fashion world, Swarovski has grown to be the world's leading producer of precision-cut crystal for fashion, jewellery and more recently lighting, architecture and interiors. Today, the company, still family-owned and run by 4th and 5th generation family members, has a global reach with some 23,000 employees, a presence in over 120 countries and a turnover in 2010 of 2.06 billion Euros. Swarovski comprises two major businesses, one producing and selling loose elements to the industry and the other creating design-driven finished products. Swarovski crystals have become an essential ingredient of international design. Since 1965 the company has also catered to the fine jewellery industry with precision-cut genuine and created gemstones. Showing the creativity that lies at the heart of the company, Swarovski's own brand lines of accessories, jewellery and home décor items are sold through more than 1,900 retail outlets worldwide. The Swarovski Crystal Society has close to 325,000 members across the world, keen collectors of the celebrated crystal figurines. And in Wattens, Swarovski Kristallwelten, the multi-media crystal museum, was opened in 1995 as a celebration of Swarovski's universe of innovation and inspiration.