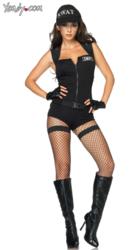 Phoenix, AZ (PRWEB) September 17, 2012
The newest and sexiest version of the traditional cop costume that is shooting off of the shelves at Yandy.com, online retailer of costumes and lingerie, are sexy SWAT costumes and they're not taking no for an answer.
Women seem to be drawn to the tougher side of sexy costumes while still showing off their assets this 2012 Halloween in Yandy's sexy SWAT costumes. Yandy has found SWAT costumes gaining in popularity year over year and 2012 is no exception. With new SWAT costumes added daily and different variations like cat suits, rompers and dresses to choose from, Yandy shoppers have no problem choosing their favorite costume for their upcoming Halloween party.
While all of Yandy's SWAT costumes are shoppers favorites, one SWAT costume in particular stands out among the rest. The Yandy exclusive, SWAT Hottie costume with a cut out, zipper front romper, belt, gloves, leg garters and hat was the top seller for 2011 and looks to be a contender for 2012 as well.
Yandy has also found that women are choosing to go together as a group as a whole SWAT team rather than individually. What one sexy and intimidating SWAT team that would make. At Yandy, SWAT costumes are not only intimidating but they are dominating this Halloween.
In addition to a wide range of costume shopping options, Yandy offers customers free, flat rate shipping over $70, a complimentary panty with every order and same day shipping.
About Yandy.com
E-commerce is on the rise and Yandy.com is one of the largest online retailers of lingerie, sexy Halloween costumes, swimwear and clothing on the web. Founded in 2003, Yandy boasts more than 6,500 products always in stock at easily affordable prices. Yandy ensures that every customer will receive a safe, secure and private online shopping experience and is backed by COMODO online security and Google Checkout. Yandy is dedicated to customer service and only sells what is in stock which allows for quick, same day shipping. Offering the highest quality products at the most affordable prices in the market, Yandy has become a leader in ecommerce. Yandy works closely with all of the manufacturers they distribute for and hand select all of the items on the Web site to ensure customers have the largest and most diverse collection to choose from. In addition, the customer service team at Yandy is unrivaled. With attentive and helpful operators, should a question or problem arise, the customer service team at Yandy is always willing and able to assist. At Yandy, every customer can Be Sexy.
###