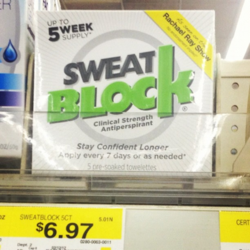 We are thrilled to announce that SweatBlock is now available in more than 2,800 stores across the United States and is more accessible than ever before
Salt Lake City, UT (PRWEB) April 17, 2012
After years of being one of the best-selling antiperspirants on the Internet, including its current stand as the number-one ranked antiperspirants on the world's largest online retail site, Amazon.com, the manufacturers of SweatBlock Antiperspirant proudly announce that their product can now be found in nearly 3,000 physical retail stores across the United States.
SweatBlock Antiperspirant is a product like no other in that it was specifically engineered to last for an extended duration while withstanding even the most extreme cases of perspiration. An ongoing customer survey indicates that average duration of effectiveness is nearly 7 days per usagae. In the end, its shining reputation and proven effectiveness have landed this specialized product a deal that places it on the shelves of almost 3000 brick and mortar stores, in addition to its already booming Internet presence.
Most notably, the mega retailer Wal-Mart has stepped forward as the primary retailer of the revolutionary antiperspirant product where it will be sold in five-count boxes – a distribution partnership that was welcomed warmly by the creators of SweatBlock.
"We are thrilled to announce that SweatBlock is now available in more than 2,800 stores across the United States and is more accessible than ever before. This has been a long time request from our customers and we're excited that SweatBlock now has a home on the shelf of a major retailer like Wal-Mart," says Austin Graff, a SweatBlock representative.
Already considered one of the leading high-powered antiperspirants on the market, SweatBlock has built an impressive cult following online, however, now that it has penned a deal with one of the largest physical retailers in the world, it will surely reach new heights.
About SweatBlock
SweatBlock was born when a renowned chemist sought a solution for his own sweat problem. A decade of testing and tweaking the formula has produced the best option available to stop excessive underarm sweating known as hyperhidrosis. SweatBlock has helped thousands of people solve their excessive perspiration problems (check out the testimonials). If you're looking to stop the sweat and are hesitant about prescriptions, Botox™, surgeries, or expensive "all natural" fixes, give SweatBlock a "dry run."