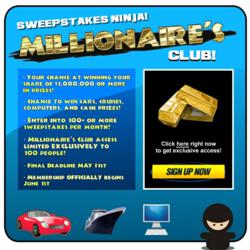 Sweepstakes Ninja is a leader in helping consumers easily find national sweepstakes to enter with one-click technology.
Los Angeles, California (PRWEB) June 18, 2013
The Millionaires Club consists of a list of over one hundred exciting sweepstakes. The sweepstakes are hosted by various well-known companies. Prize packages have included vehicles from Ford, Nascar Trips with Tony Stewart, Pennzoil/Tim McGraw Sweepstakes, gift cards from Little Caesars, VIP music trips to see One Direction, appliances from the Food Network, Steve Harvey Morning Show sweepstakes, and many more.
The Sweepstakes Ninja software application is a sweepstakes organizer and form-filling assistant. Using Sweepstakes Ninja, consumers may pick and choose which sweepstakes they wish to enter. The software highlights the prizes that the consumers have the chance to win, and the companies sponsoring the sweepstakes, should they choose to participate. The consumer benefits by saving time and increasing their chances of winning prizes. It benefits the companies, because they get increased brand recognition and word of mouth advertising.
For companies, Sweepstakes Ninja has an e-mail of consumers looking for sweepstakes that can help promote future sweepstakes. These consumers have signed up to the newsletter because they are interested in future sweepstakes promotions.
About Sweepstakes Ninja
SweepstakesNinja.com connects consumers with companies offering online sweepstakes. Sweepstakes Ninja has been in business for more than five years. During this time, Sweepstakes Ninja has participated in tradeshows, been featured in magazines, and connected thousands of consumers with top notch prizes. Sweepstakes Ninja has helped companies see a return of 300-400% in user engagement on their sweepstakes promotional investment. For more details, visit http://www.sweepstakesninja.com/.