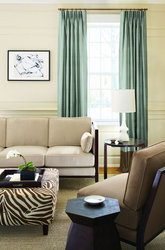 Originally the customer knew how to sew or went to a workroom
(Vocus) July 17, 2008
Who wouldn't love to have a windfall of $5,000 to redecorate their home? In honor of its 60th anniversary, the 100+ Calico Corners and Calico Home stores are celebrating with a Decorating Spree Sweepstakes. From now through November 15, 2008, entrants can complete the contest entry form at http://www.calicocorners.com (only website entries will be accepted). No purchase is necessary. The winner will be notified by December 10 and announced on the website.
Calico Corners has come a long way since the first store opened in Bedford Village, New York in 1948. The company began as a small store selling the seconds of top quality interior fabrics. More outlets quickly followed, and within 30 years, Calico Corners stores were established in most major markets across the United States.
By the 1980s, Calico Corners had become the country's leading retailer of high quality fabrics for the home. The company soon introduced custom upholstered furniture—now more than 250 frames—to be covered in the customer's choice of thousands of fabrics. The next step was making window treatments, bed ensembles, pillows, tableskirts, slipcovers and more.
"Originally the customer knew how to sew or went to a workroom," states Jan Jessup, national spokesperson for Calico Corners. "Then we realized that we were the experts and could save the customer that time and trouble. Now our stores create and install more than 100,000 custom window treatments and more than 20,000 pieces of custom upholstered furniture every year—each made just as the customer wants," notes Jessup.
The addition of in-home design consultation was another major initiative. "Large homes, vaulted ceilings and challenging windows create real design dilemmas," observes Jessup. "While our in-store associates are very talented, sometimes there's just no substitute for seeing the room in person."
"Calico Corners continues to evolve to meet changing customer needs," notes president Roy B. Simpson, Jr. One recent shift has been the conversion of seven stores to the new Calico Home format. These stores have been redesigned to make decorating easier and the fabric selection has been greatly expanded. Hundreds of additional styles and colors have been added, displayed in a variety of ways.
"A large design center at the core of the store provides a place for customers to spread out and collaborate with a design associate to create a wonderful room," says Simpson. "Everything is close at hand to design window treatments, select upholstered furniture, pillows and bed ensembles."
With the addition of lamps, rugs, occasional tables, and other decorative accessories this fall, customers will find everything they need to complete the room. "Our customer comes to us to personalize her home. These finishing touches will help make it uniquely her own," adds Simpson.
The winner of the Decorating Spree Sweepstakes will have the opportunity to work with a skilled in-home consultant if they live near a participating store. But wherever they live, they'll be able to choose from the vast array of products and services at Calico Corners – Calico Home to give their home a makeover.
Calico Corners – Calico Home stores provide expert advice, decorating solutions and in-home design consultation in more than 100 stores across the country. In addition, consumers will find designer fabrics for the home, trims, custom window treatments, blinds, shades and custom upholstered furniture. Thousands of fabrics are now available online. For more information on Calico Corners or Calico Home products and services, or to find the nearest store location, visit http://www.CalicoCorners.com or call (800) 213-6366.
Contact:
Jan Jessup
(610) 444-9700, Ext. 262
publicrelations @ calicocorners.com or jjessup @ calicocorners.com
###